Rodgers realistic over Liverpool's aims this season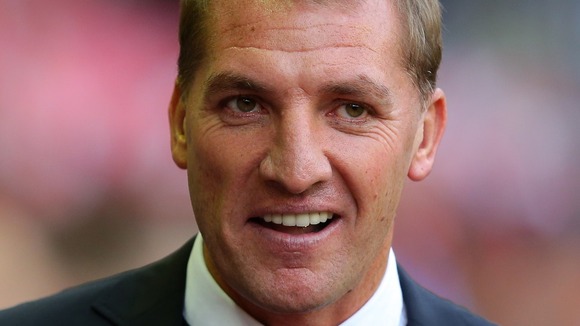 Liverpool manager Brendan Rodgers feels a positive from the 2-0 defeat at Premier League leaders Arsenal will be keeping a sense of perspective to ambitions this season.
The Reds headed to the Emirates Stadium on the back of a highly-impressive 4-1 demolition of West Brom and with aspirations of usurping the Gunners at the top of the table.
However, despite a positive opening, it was Arsenal who found their form when it mattered as well-taken goals from Santi Cazorla and Aaron Ramsey secured all three points for the home side.
Rodgers, though, believes things are moving in the right direction - if not perhaps as rapidly as some Reds fans may be hoping for.
"We have still got a long way to go before we are ready to compete consistently," the Liverpool boss said.
"If you win one game, like we did with a terrific performance against West Brom, everyone is looking at you and talking about your front two.
"Then against Arsenal we weren't quite firing as we would want to be, so with that expectancy I am sure people will look at it and be a bit more realistic.
"But for us the ambition is to be up there and fighting to be in that top four.
"It is a huge challenge for us in terms of where we are at but we are ready to take on the challenge."
Rodgers added: "We are maximising what we have got in the squad and this result shows where we need to get to in terms of the quality of our squad and our depth."
Liverpool did have their chances at the Emirates Stadium, particularly in the first half.
Jordan Henderson ran half the length of the pitch only to then scuff his shot when bearing down on goal, while Luis Suarez - subject of two transfer bids from Arsenal in the summer - was also off target with the few opportunities which did come his way.
The outcome, however, could have been different but for a disallowed Liverpool goal in the first half which would have made it 1-1.
After being pushed over by Bacary Sagna, Suarez took a quick free-kick which released Daniel Sturridge who crossed for Henderson to tap into the net - only for referee Martin Atkinson to pull play back and book the Arsenal defender.
"It is disappointing because it was great play," said Rodgers.
"I always say to the players to spot the ball and play and they did exactly that.
"We broke away and scored but the referee felt the rules meant he had to stop the play to give the yellow card."
Defender Glen Johnson was unwell shortly before Saturday's match, so 20-year-old Jon Flanagan was drafted in at wing-back.
Liverpool again deployed a three-man central rearguard, which Rodgers accepted was at times exploited down the flanks by Arsenal.
A change for the second half saw the team reshaped, with Brazilian midfielder Philippe Coutinho making a welcome return from his injury lay-off.
Rodgers said: "To get even 45 minutes out of him was good because he only got clearance on his shoulder on Tuesday.
"There is no way he could have been able to play more than the length of time that he did."