The Big Match Revisited: Manchester United overcome Inter in the San Siro to keep treble dream alive
In this extract from The Promised Land, a new book about Manchester United's treble-winning season of 1998/99, author Daniel Harris recalls one of the defining matches on that historic journey: a serious test of nerve against Inter Milan in the San Siro in the Champions League quarter-finals.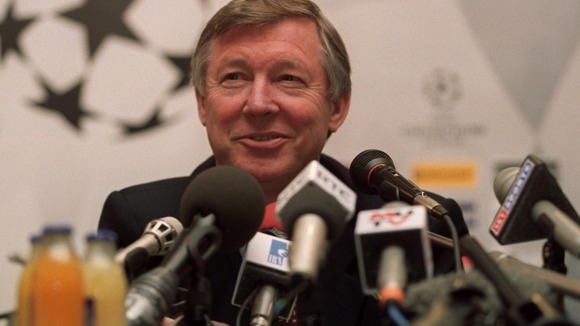 When an Italian tells me it's pasta on the plate, I check under the sauce to make sure.
– Man Utd boss Alex Ferguson doing his bit for Anglo-Italian relations before the return leg in Milan.

Luck and ill luck are regularly cited as instrumental in sporting success or failure, usually without good reason; where margins are small, the decisive factor is almost always competence under pressure. So Manchester United weren't lucky to move past Inter, just as they weren't lucky to knock Chelsea out of the FA Cup; rather, both opponents faltered at crucial moments.

"When an Italian tells me it's pasta on the plate, I check under the sauce to make sure," said Fergie before the game. "There will be a lot of scheming and diving and referee-baiting; they'll go through the whole Italian repertoire."

"Maybe Ferguson has done it because he is afraid," retorted Inter boss Mircea Lucescu. "That is what you have to ask yourself. Surely there can be no other explanation." It's unlikely he was still as convinced, when, at full-time, "Ferguson" came onto the pitch to join in the celebrations and Gilles Veissière was one of the first men he congratulated, the fine he would later receive for "unnecessary provocation" well worth the £2,155.

If United came into the game on a roll, Inter had hit the rocks; "their form has been so bad recently it is hard to guess how they intend to play", surmised Fergie. There was also plenty of speculation regarding the health of Ronaldo, who, though passed fit, "looked vacant, utterly uninterested in the happenings around him, as if he didn't want to be in that place at that time." Butt, on the other hand, was absolutely desperate, initiating a tunnel row after learning of his omission not just from the starting 11 but the matchday squad.

From there, the pitch only increased, Fergie describing "a clamorous tension" as the players waited to come out, with Simeone, "the aggressive Argentine", "screaming exhortations at his team-mates". And United had good reason to be nervous. Italian teams were the acme of world club football, and they'd never before eliminated one, let alone this one, on this ground.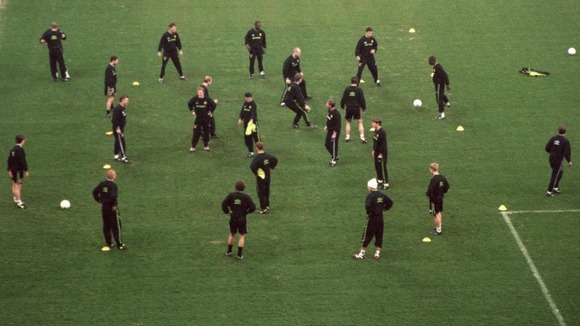 Behind closed doors, the players had been warned about the intimidation they'd feel from the crowd, and the various projectiles they'd need to dodge – "welcome to bedlam" were the words used by Clive Tyldesley to open his commentary. Even before the game, United's directors were pelted with projectiles, from a home end flying banners declaring "Fourth Reich" and "Yorke is my dog" – both made to look very silly by one in Curva Sud that read "MUFC we're too sexy for Milan".
Though Jaap Stam, at least, of course, was sanguinello. "People need to try a lot harder than lobbing coins, oranges, even plastic bottles of piss in my direction if they want to provoke me. I tend to block it all out and just concentrate on the game."
And United planned to play as normal. "I expect them to express themselves, I expect them to enjoy themselves," Fergie told ITV, and he was also insistent that his full-backs be brave enough to demand the ball, reassuring them of their ability to perform regardless of the atmosphere. But as against Porto and Juventus in 1997, he took the precaution of starting Johnsen in midfield, concerned about Ronaldo dropping deep and claiming his man to be the world's best at eliminating that kind of menace. It was only the fifth time that Inter had been able to field Ronaldo, Zamorano and Baggio together; they had scored eight goals between them in the previous four. Also playing was a young wing-back called Silvestre; had what is known now been known then, much tension could have been avoided, simply by shouting "Oi, Mikael! Look over there!" at the appropriate moment.
Perhaps his condition was contagious, because within minutes, the usually reliable Johnsen sent a dozy back-pass towards Schmeichel, out just in time to thrash away. But now United were in the game, Keane soon carrying the ball forward and sending it left to Giggs, Yorke almost reaching the ensuing cross with his forehead.
Next, the first burst of Ronaldo, Berg folding his legs into a tackle, after which United knocked the ball around to jeers and a constant pitch of wild noise, almost took the lead. Cole slid in to win the ball on the left, Giggs veered away from Colonnese and slung to the back post, but Yorke couldn't quite dislocate his ankle around it, prodding wide instead.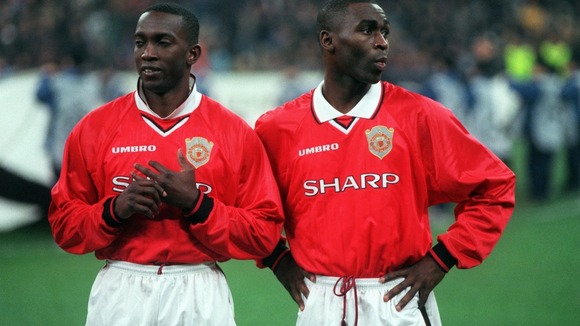 On 15 minutes, Baggio found Cauet who discovered Zamorano, in behind Berg. Taking a soft touch inside in preparation for a shot, he was moving across the area left-to-right when Schmeichel t-boned across him, between him and the ball and nowhere near the ball. Lots of shouting, screaming, gesturing and cajoling, but no penalty given. Yep, "Ferguson" must have been afraid; there could be no other explanation.
Minutes later, Baggio released Zanetti, sliding by Giggs with Irwin nowhere to be found and measuring a cross that was perfect for Zamorano, diving to head home. But at the last millisecond, Berg inserted a leg in front of him, diverting the ball to safety and now fully atoned for his comment the previous spring that he wasn't "that bothered about not playing too much" as it meant he'd be fit for the World Cup. And whether Berg across this tie, Phil Neville's cross at home to Arsenal, Cruyff's equaliser at Derby or Brown's alleviation of the autumn defensive crisis, every member of the squad contributed qualitatively to the cause, reflecting the origin and principles on which United was built. From each according to his ability, to each according to his needs – and beyond.
But the danger was not yet clear, Johnsen forced to head away and Giggs ineptly dangling a leg in the direction of the loose ball, allowing the waiting Zanetti to collect and turn inside. Letting it drop and bounce, he then swerved a flowing right-footer with no apparent force – how fighters describe the delivery of a knockout punch – which smacked the middle of the middle of the post.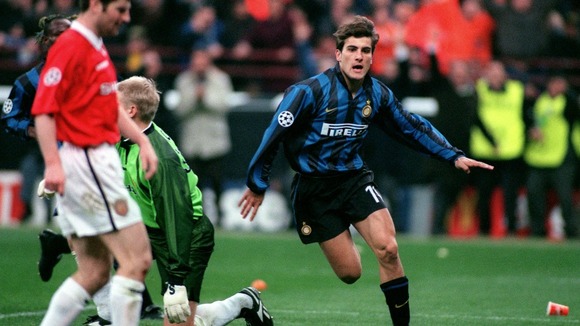 United, though, remained a threat, Yorke holding possession and releasing Johnsen galloping outside him along the left. His cross, clipped low and hard, was close to perfect, Cole leaping into a slide, but he could only push the ball wide.
At the interval and channelling Jack Worthing, Fergie lamented "30 seconds when we were torn apart a bit", but you could see his point; the game was footballing DMT, general calm interspersed with short episodes of high mentalness. The second half began in similar vein.
First, a Beckham cross was narrowly missed by Cole, then a Silvestre free-kick barely reached the wall, then Baggio slipped Ronaldo in. He ran away from Neville, as he would repeatedly in the Bernabeu a few seasons later, and shot at the near post, but Schmeichel thrust up a giant forearm to prang the ball to safety.
Finally, on 59 minutes and following a strong tackle from Neville, Ronaldo was mercy-subbed. "On his day he can beat anyone," Fergie had said before the game. "So, first thing, you hope it's not his day. But you also organise to ensure you minimalise the damage." Replacing him was Ventola, who many in Milan wanted to start in preference to Zamorano. "What they would call in Italy un uomo serio, a dedicated young man," cooed Brian Glanville, "who has been studying jurisprudence at Bari University."
And within seconds, he'd scored. Cauet scooped a ball over the top of the United defence which gripped and pitched and leapt out of some day-five rough, Keane's jack-knife getting nowhere near. This allowed Ventola – staying admirably calm amidst the shock of such an error from such a man at such a moment – to steer a finish across Schmeichel and into the far corner.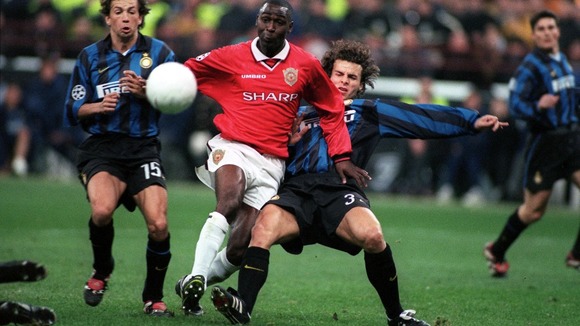 "I thought 'oh my god'," Gary Neville later confessed, noise in the ground growing and Moriero replacing Bergomi, who stomped off with intimidating intent. But this was original Fergie and, accordingly, he was having none of it, defusing the situation with an attacking change of his own, taking Johnsen off for Scholes' "fresh legs and good imagination with his adventurous passing".
Almost immediately, Cole broke clear but dragged his shot wide with Yorke waiting at the near post, then Zanetti weaved into a shooting position and whipped his right foot across the ball, but couldn't find quite enough draw, drifting it just wide.
And then came the chance. Ze Elias sought Ventola on the edge of the box, almost dead centre, but Berg arrived first, Baggio first to the loose ball. Smuggling it away sideways from Scholes and Berg, it went directly into the path of Ze Elias, to his left, who knocked it past Neville, strode, looked up, selected his spot, and carefully tucked his finish across goal and wide. Pressure, not luck.
Minutes later, Cole and Yorke found themselves space in the Inter box, wasting the opportunity by intricately trying to conceive the perfect goal, but minutes later still, a goal that was perfect arrived.
United won a throw deep inside the Inter half, Colonnese ramming the ball into Beckham's face as he came to retrieve it. Leaving it for Neville, it went along the touchline to Yorke, who held up and returned.
"Neville with the cross, Andy Cole waiting underneath it… it's Paul Scholes!"
The world paused. He was unmarked. He was in front of goal. He couldn't miss.
"The ball seemed to take an age to come down," he later wrote. "Scoring should have been straightforward but somehow it wasn't. I don't know what I was trying to do. I just wanted it on target but I scuffed my shot badly, maybe even catching it with my heel. As the ball rolled towards the goal I realised that I had unwittingly wrong-footed their keeper."
"He's done it! Matchpoint Manchester United!"
The United end erupted, the ground emptied in seconds, and the players, informed by Fergie that they would win the competition after losing to Monaco, knew for sure that it was on. "I think everyone will be scared of us," said Cole afterwards, Bobby Charlton adding, "if it's not this year, it'll be soon".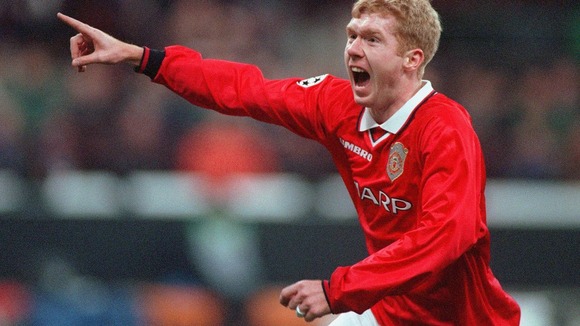 Obviously, Roy Keane was convinced. "Having the ball shoved in your face like that is hard to take," he said. "But fair play to Becks. He walked away and that's what it's all about. We knew their players would be hostile and would try to intimidate us, but how Becks reacted shows that we have come through the learning process to succeed in Europe. Of course, you need skill and ability. But in European football, especially in the atmosphere that confronted us in the San Siro, you need more than that. Now we can handle anything."
And Clive Tyldesley felt it, too.
"It all adds up to a growing belief that this could be their year. Each season, each adventure, each match, they seem to learn a little more, seem to find their way around Europe a little better. The joy of the success will intoxicate them and their legions of supporters tonight, but it won't satisfy them... they believe they're ready to win the giant trophy again. The semi-finals are three weeks away, but can't come quickly enough. Manchester United are through."
As the players left the pitch, the few Inter fans that remained showered them with fruit and bottles, only for Schmeichel to realise that he had left his lucky towel in the goalmouth. But in general, he was a happy man, the decision to defend higher up the pitch limiting his workload. "That has made it far easier for me, so a large percentage of what I am called upon to do is to act like a sweeper. Now it is rare that the opposition get clear-cut chances," he explained. And this also allowed Roy Keane to get on the ball closer to the opposition goal, rapping out the passes that underpinned so many of United's post-Boro goals.
Celebrations in the dressing room got underway and continued all the way home, the players arriving back in Manchester in the early hours of the morning. But for Yorke and Cole, the night before was only just beginning, Yorke blackbooking a girl to join them at home, who would later reveal her shame exclusively to the News of the World.
After a time, the "very religious" Cole toddled off to meet his girlfriend and son, on a later flight back from Italy. Then, the following week, Yorke attempted to arrange a second viewing – complicated, given his punishing work schedule.
"But we've got so many games coming up," he told her. "We're playing Saturday at Wimbledon away. We come back. Then I play Juventus on Wednesday in the semi-final and we've got Arsenal in the semi-final of the FA Cup on the Sunday." United: what happens to you while life is busy making other plans.
Clearly, the girl in question was the girlfriend of a City fan, and clearly, he too was desperate to display his desolation: "It was bad enough her sleeping with someone else, but going off with two men, and United players at that, is the lowest of the low. I'm a devout City supporter and I can't believe she has done this to me," he told the Sun. "She has completely humiliated me." Still, at least all those years of early FA Cup exits had stood him in good stead: "I'll just concentrate on City now and hope they get promoted to Division One," he resolved.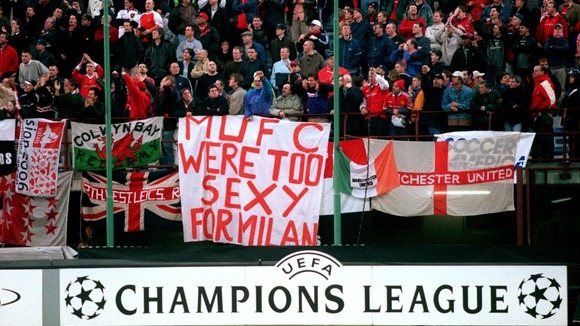 And then there was Paul Scholes. It had been clear for a while that his talent for the sumptuous and instinct for the scruffy was matched by few, but not until this game did he out himself as a scorer of the genuinely crucial goal. And perhaps no United player since can match his subsequent philanthropic record: Spurs in 2003, Arsenal in 2004, Barcelona in 2008 and Manchester City in 2010 are amongst the top goons of the last 15 years, the first three amongst the most important goals.
No less a natural than Ryan Giggs considered him as "the most talented player I've played with", and perhaps no one has provoked as many outrageous and articulate homilies from as eminent a group of peers. Described by Lionel Messi as "one of our teachers", he was revered at Barcelona for the cerebral simplicity of his play and natural ease of his technique. "It is about the game, a way of playing," he explained. "The pleasure of striking a ball or finding the right pass," what he termed "effective football". And this phrase, more than any other, summed him up; clever or straightforward, difficult or easy, spectacular or understated, he just did whatever was necessary, at the precise time that it became so.
Kicking folk, on the other hand, was different, the head-patting chuckles that would emanate from commentary boxes insulting to his boyish pleasure in inflicting pain his inability to refuse such opportunities verging on the pathological. "He will do something if he gets the chance – even in training," chuckled Fergie.
And he'd been at it a long time. Growing up, he was generally the smallest kid on whichever pitch he found himself, compensating via pre-emptive strike – the Nevilles recall playing for Bury Juniors against Boundary Park Juniors, and specifically, their violent ambush by a pair of ginger rascals.
By the end of his career, Scholes' personality was as much a cliché as the tackles it helped him get away with, and equally underestimated: not just unassuming, but witty and bluff. "I suppose as footballers you just get on with it, don't you… We're quite cold people, aren't we?" he said, explaining the players' placid reaction to hearing of Fergie's retirement. "Or is that just me?"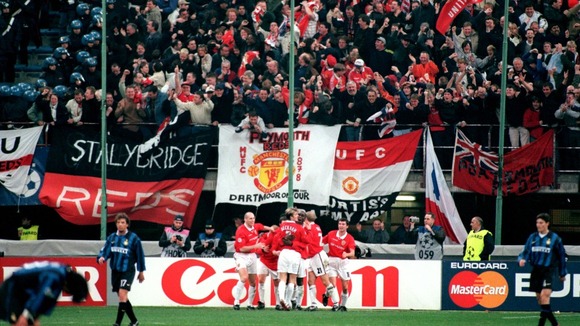 Daniel Harris is a writer, in shorter-form and about sport mainly for The Guardian. You can buy The Promised Land in paperback or on Kindle here and follow him on Twitter