Frank Lampard not taking World Cup selection for Brazil for granted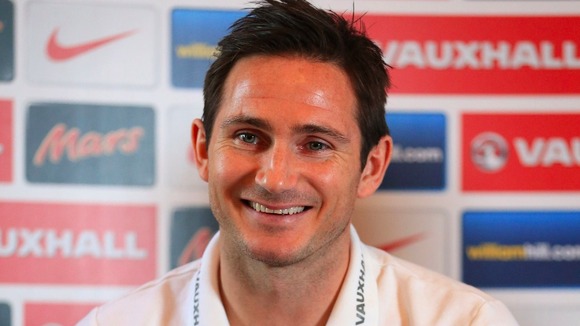 Frank Lampard will be recognised as England's eighth centurion on Friday but he knows it would be foolish to think that reputation alone will be enough to earn him a ticket to Brazil.
Lampard is set for an emotional night when England take on Chile at Wembley.
The 35-year-old will be handed a golden cap by his father and Sir Geoff Hurst to commemorate his 100th appearance for England two months ago.
The fact that he is one of England's most experienced players does not mean he believes his World Cup place is certain, though.
"All the players are in the same boat. What we've done up to now carries a bit of weight, some more than others, but if your form isn't good enough up until the end of the season...," Lampard pauses, momentarily, unable to express the idea of him missing the World Cup before adding: "If I walked around thinking my 103 caps would get me on the plane, I'd probably be on the beach, because that means you're taking things for granted. I don't think any of us can afford to do that."
The Chelsea midfielder, who is out of contract in the summer, would not reveal his plans for after the World Cup, but it is widely anticipated that he will retire from international football next summer.
It is clear that the future of English football preys heavily on Lampard's mind.
Every time a tournament comes and goes, the English public are reminded of the length of time since the Three Lions last triumphed at a major tournament.
One particular area of concern for Lampard is the way in which England's next generation are being coached.
"Coaching with the kids is the single one thing we may have fallen behind on," the former West Ham midfielder said.
"I think we need to be very forward-thinking in that, and the (Football Association) commission and the people involved, with the experience we've got, they have to look at that.
"We need to coach our kids to receive the ball, to be aware of what's around them, to maybe get a little bit better technically.
"If we can do that, we may find ourselves where we want to be.
"We shouldn't put ourselves down too much. But if we could tweak things, and the major one for me would be coaching with the kids, then we will improve."
The lowest point in recent memory for the England team, and Lampard in particular, was the 4-1 thrashing by Germany in Bloemfontein four years ago.
The England vice-captain scored a legitimate goal that was chalked off that day, but he accepts England deserved to lose.
Germany head to Wembley on Tuesday and Lampard thinks the current squad stand much less chance of receiving another hiding.
"As an England player in that squad, that probably was as low as we've been," he said.
"But over the course of the years, we've come back to seeing a lot of positives again."
From the archives: Salas stunner silences Wembley