Coleman urges marked man Bale to get used to rough treatment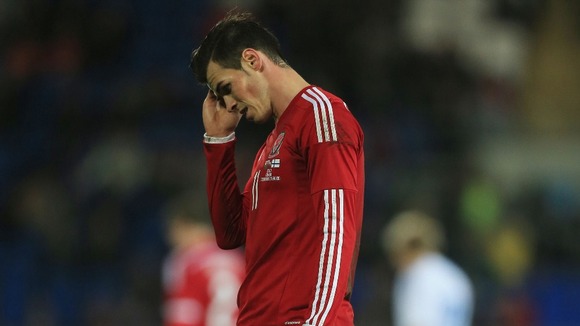 Chris Coleman has told Gareth Bale he will have to get used to sides using uncompromising tactics against him after the Wales star came in for some tough treatment during the 1-1 draw with Finland.
The Real Madrid star played the full 90 minutes at Cardiff City Stadium, the first time he has done so for his country since his world-record move to the Bernabeu.
But the 24-year-old did not have the easiest of nights, with Finland doubling up on him at every opportunity.
During the opening exchanges Jere Uronen managed to catch Bale late twice, leaving the forward needing treatment to his ankle, but Dragons boss Coleman feels that goes with the territory of being one of the world's best players.
"Gareth will have to get used to that. He is going to get kicked, pushed and bullied but he has got to get used to that," he said.
"He has been propelled onto another level. But he has the character to deal with it. He hasn't got a choice as he is such a good and dangerous player.
"He knows before he walks onto the pitch that in that 90 minutes there will be someone who wants to leave something on him but he has got to take that as a compliment as well and I am sure he does, although it may be a painful compliment.
"I said at half-time, 'listen, this team is not here for a friendly'. They were honest. I am not complaining, that's football.
"As a team ourselves we can be a little bit more nasty. I was impressed with Finland. They had good energy and good football players."
Finland manager Mixu Paatelainen was pleased with how his side had handled Bale.
He said: "There is pressure on Bale. He is a fantastic footballer.
"But I felt we coped well with him and we doubled up against him whenever he got the ball.
"He will always be a danger when he cuts inside and did have one shot, but our keeper was well positioned."
He added: "I thought we deserved the draw.
"The Welsh team have some quality and are physically stronger than us but we hit the post and they had a shout for a penalty so all-in-all a draw was a fair result.