Hodgson insists Hart is well prepared for Germany game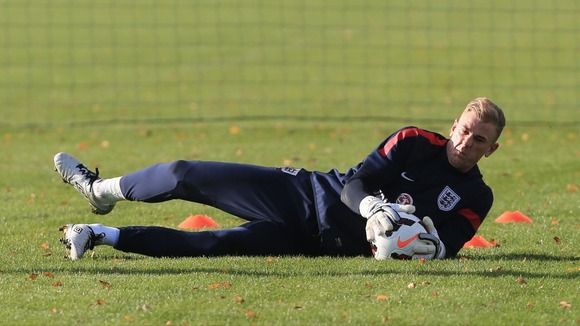 Roy Hodgson insists he has no need to put his arm around Joe Hart and tell him how to prepare for the daunting prospect of facing Germany after such a long period on the sidelines.
The 26-year-old has been a regular for club and country for more than three years but a series of blunders for Manchester City resulted in manager Manuel Pellegrini dropping the player.
Hodgson may have experimented with Fraser Forster on Friday, but there is no doubt that Hart remains his number one ahead of the World Cup.
Hart will therefore return in goal on Tuesday night when Germany visit Wembley.
After such a long list of high-profile errors, Hart would be forgiven for shaking with fear at the prospect of facing such a fierce team, but Hodgson feels he does not have to take the stopper to one side to warn him about the dangers that lie ahead.
"I always try hard to tell players things they haven't heard of, I don't teach them to suck eggs," Hodgson said.
"Joe Hart is an experienced goalkeeper. He understands the way of the world. "He understands when he loses his place in the Man City team and is criticised for letting a couple in, what happened will happen.
"I don't need to take him to one side and say: 'By the way, Joe, this is what happens in football'. I have too much respect for him as a professional and a man."
In fairness to Hart, he has barely let England down since he took the gloves off David James after the last World Cup.
He should have done better to keep James Morrison's shot out against Scotland in August, but otherwise most of his errors have come for his club side.
That does not mean he is immune from criticism when it comes to his performances with England, however.
"(Tuesday) is a tough mental test, a test of attitude and application but I fully believe that Joe understands that and is ready for it," Hodgson added.
"All I can do is give him the chance to put the shirt on, go out and play and afterwards he will have to face whatever he faces.
"If he keeps a clean sheet, I am sure people will be saying some very good things about him.
"But if he lets a couple of easy goals in, he will have to accept criticism."