Wilshere needs more games - but we'll be patient, says Hodgson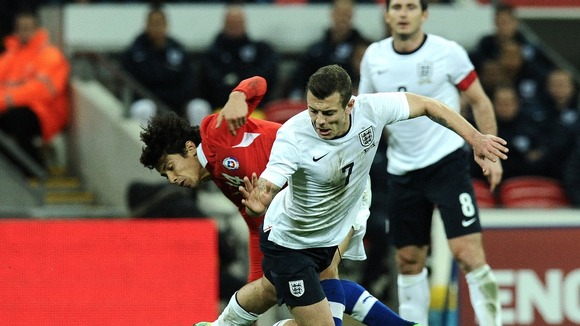 Roy Hodgson is sure England fans will see the best of Jack Wilshere at the World Cup - but only if the midfielder gets a good run in the Arsenal team from now until the end of the season.
Wilshere is regarded as one of the few players in the England set up who can turn a match on its head with a moment of magic.
The Arsenal midfielder has struggled for fitness and form this season, though, and the limelight has shifted towards Aaron Ramsey and new record signing Mesut Ozil.
After returning from a 16-month layoff, Arsene Wenger used Wilshere sparingly last season, starting the 21-year-old in just over half of the Gunners' games.
Wilshere has been troubled by a niggling ankle injury for a chunk of this season, and Ramsey's form also means the England international has completed just eight of Arsenal's 19 matches.
"One thing Jack has mentioned (to me) recently has been that he has had a lack of 90-minute match practice and he obviously feels that he needs a few more games under his belt," the England manager said.
"But there will be 28 games that he can possibly play before we go to Brazil so it's not something that bothers me enormously in November.
"That question could be a relevant one at the end of April or the start of May if he is still not playing games, but at the moment, I am just happy to accept that."
Going in to Friday's 2-0 defeat against Chile, Wilshere missed Arsenal's recent games against Liverpool and Borussia Dortmund because of his latest ankle injury.
Hodgson believes once the problem is finally healed, Wilshere will be firing on all cylinders again.
"It's going to take Jack some time," Hodgson added.
"He admits that, as does Arsene. I thought he did some very good things in the game against Chile so I wasn't disappointed with him.
"He has had two or three weeks off with an ankle injury so it was going to be tough for him to come on and set the game alight in a game of that quality, but I wasn't disappointed with him at all.
"I was pleased we got 65 minutes out of him and I hope that will do him well for the future."