BT Sport: £897m Champions League rights 'worth every penny' – and they may invest 'eye-watering sums' in Premier League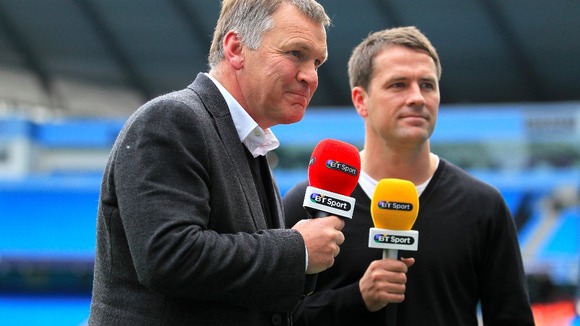 BT Sport is ready to invest more "eye-watering sums" and already has its eyes on the next Premier League television rights, BT TV chief executive Marc Watson has warned.
Watson said the £897million splashed out by the telecommunications giant on 2015-18 Champions League rights was "worth every penny" despite Sky's claims BT had paid over the odds.
He insisted that there is room for both BT and Sky in the marketplace but said his company was willing to spend even more on sports rights to cement its position.
Watson even suggested FIFA is "welcome in his office any time" if it wants to explore an alternative to the BBC and ITV for the World Cup on free-to-air television.
Watson, speaking at the UnitedCity global sports summit in Manchester, said: "We have been able to afford some pretty eye-watering sums because it drives a position in a big and lucrative market, and we are in a position to invest more.
"I know that some have questioned how much we have paid for football rights especially in last couple of weeks, but the truth is that money makes a difference in a highly competitive market and we only pay what we think the rights are genuinely worth to us and we hope that's enough to win it.
"The losers always say the winners have overpaid but we know we wouldn't have won it for less, and what we have got with the Champions League are some of the best matches on the planet and they are worth every penny.
"It is too early to say what we will do in terms of the next Premier League rights. We are a big business and we generate a lot of free cashflow and if think this is working for us and we see something that drives the business forward then we are in a position to invest."
Watson said BT had already seen a surge in the number of broadband subscribers and foresees the expansion of super-fast fibre-optic broadband as the key to people changing TV viewing habits.
He tried to downplay the rivalry with Sky however, insisting there was room for two - but perhaps not three - major live sports broadcasters in a market where "football is king".
Earlier, David Kerr, managing director of British Eurosport, had referred to the next Premier League rights battle as "a seismic clash, almost a do-or-die situation."
Watson said however: "We don't have to steal Sky's share in the market to thrive. The market is definitely big enough for two.
"At the moment we put ourselves as being a strong second in the market and we are comfortable with that. I believe there is room for two strong sports broadcasters in the UK market.
"This is not as binary as there can be only one winner - Sky are extremely good at what they do, they do set the bar and we recognise that as we come into the market,
"We don't pretend going to match that overnight but we have made a good start and we will see where the future takes us - with the rights we have brought for quite a few weeks in the year we will be number one sports broadcaster."
In terms of the World Cup, under British law the finals have to be available on free-to-air television, but that would be possible on BT's platforms though Watson admitted it is difficult to see beyond the BBC and ITV.
He added: "They (FIFA) are welcome in my office any time. We will look at all opportunities but I think getting the World Cup off BBC and ITV would be a challenge."