Spurs boss Andre Villas-Boas hints that Emmanuel Adebayor could play against Man City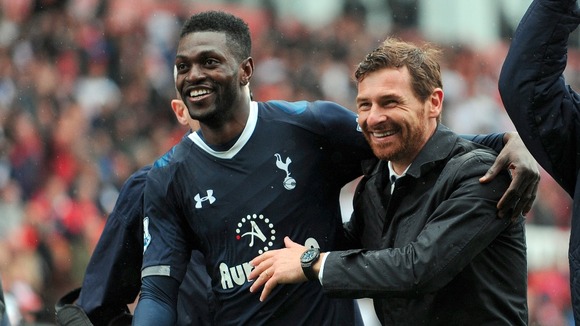 Tottenham manager Andre Villas-Boas has revealed Emmanuel Adebayor could make his first appearance of the season at his former club Manchester City on Sunday.
Adebayor was a key part of Villas-Boas' team last season, but this term he has been forced out of the running by £26million signing Roberto Soldado.
Adebayor has only been on the bench on one occasion so far, but Villas-Boas looks set to include him in his matchday squad for the game at the Etihad Stadium.
With Adebayor not being on international duty over the last fortnight, Villas-Boas has had a chance to look more closely at the Togo striker, who missed a large chunk of early season because he was allowed time off for compassionate leave.
The striker, who spent three years at City before an acrimonious split with then manager Roberto Mancini, played in a behind-closed-doors friendly at the club's training ground last week and the Tottenham manager liked what he saw from the former Arsenal man.
"Our likely approach is to go with one up front (at City)," Villas-Boas said.
"They (Soldado, Adebayor and Jermain Defoe) are very near each other at the moment and it could be a possibility that even Ade could play that game.
"These are all decisions that we have to take. We don't have enough reasons at the moment not to trust Soldado and Defoe because they've been excellent.
"Hopefully it's a decision that's best for the team and best for the strategy."