Goofy Chelsea boss Jose Mourinho makes nothing of Mickey Mouse comment in tunnel at Stamford Bridge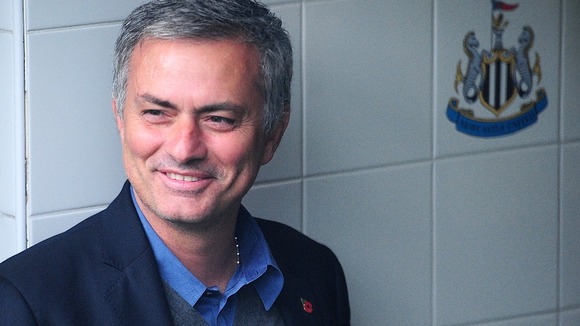 Chelsea manager Jose Mourinho wants to know if referees' chief Mike Riley plans to make a habit of making conciliatory phone calls to Premier League managers aggrieved by decisions of his officials.
In apologising to West Brom following the controversial award of a penalty to Chelsea in the last round of top-flight fixtures, Mourinho believes Riley was "publicly exposing" Andre Marriner.
Marriner awarded Chelsea a stoppage-time spot-kick, converted by Eden Hazard to earn a draw, when Ramires went down after colliding with Steven Reid.
West Brom boss Steve Clarke was furious and Riley issued an apology.
"I'm very curious to know the consequences of it," said Mourinho, speaking prior to Saturday's match at West Ham.
"At least now the referees know, they know one thing.
"If in a controversial - I'm not saying a mistake - decision that hypothetically - and, I repeat, hypothetically - favours Chelsea, they know they are going to be publicly exposed by their boss. That they know.
"They can make, hypothetically, mistakes, favouring other teams, nothing happens.
"If hypothetically - and, I repeat, hypothetically - they make a mistake, they are publicly exposed by their own boss.
"I'm very curious to know if it was just an isolated phone call.
"I'm curious to know if people see that as a normal situation.
"I'm interested to know if this is the start, that from now on it's going to be the same for everybody."
Following Mourinho's comments, the Professional Game Match Officials Limited clarified that it was West Brom, and not Riley, who opted to make a private conversation public in relation to the penalty award.
Mourinho was eager to know if Hull, Norwich, Swansea and Aston Villa received phone calls for perceived mistakes made by officials against them.
Swansea boss Michael Laudrup on Thursday revealed he too had spoken to Riley with regards a controversial penalty award - in his side's 3-3 draw with Stoke - but declined to reveal the details of the conversation.
Asked whether he had ever received a phone call from an official during his career, Mourinho added: "If they do that, during my career, my telephone would be very, very busy."
Mourinho expressed surprise at the practice.
The Portuguese added: "Maybe these are new times and maybe, from now, Mr Riley is going to do the same with every other club and every other manager. If that's the situation, let's welcome new times."
The incident sparked a tunnel fracas at the end of the match, during which West Brom defender Jonas Olsson claims he was called a "Mickey Mouse player" by the Chelsea boss.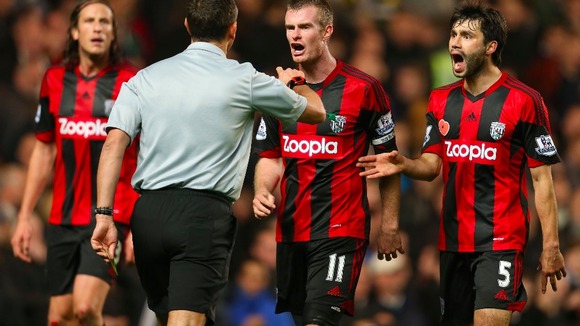 Mourinho believes tunnel incidents should not be made public "because they are insignificant things", but would be content if CCTV was installed in order to review more serious incidents which may occur.
"When the biggest insult of the tunnel is 'Mickey Mouse'... imagine if you say 'Goofy'," Mourinho added.
"It's nothing. I'm not disappointed. The world is like this. It's not just football.
"People are looking for little things and, to make out of little things, big things. It's society."
Clarke reckons Mourinho is continuing to comment on the issue to cover up his Chelsea side's failings.
The Scot, Mourinho's assistant at Chelsea during the Portuguese's first spell, said: "Maybe he is trying to deflect away from the fact that his team, against a 'small club', in the last game weren't as good as they should have been.
"There has been a lot of discussion about other things rather than just the game.
"But in the game, West Bromwich Albion played very, very well and should have come away from Stamford Bridge with three points.
"The rest of it has been hyped and run for the last two weeks, and nobody has really spoken about how poorly Chelsea played.
"So maybe - maybe, because I don't know Jose very well - that is the smokescreen."