Liverpool goalkeeper Simon Mignolet praises team-mates Daniel Sturridge and Luis Suarez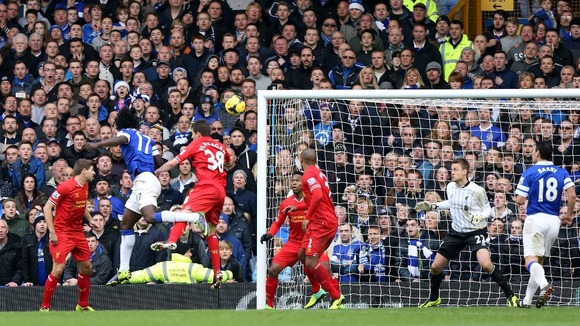 Liverpool goalkeeper Simon Mignolet did not think the Reds had thrown away the 221st Merseyside derby when they were trailing due to the firepower of Luis Suarez and Daniel Sturridge.
Having twice led through Philippe Coutinho and a brilliant Luis Suarez free-kick - either side of Kevin Mirallas' equaliser - Romelu Lukaku scored twice to give the Toffees a 3-2 lead with eight minutes to go.
Mignolet's Belgium team-mate appeared to have delivered a crushing blow only for Sturridge to snatch back a point in the 89th minute.
"I have to be honest once they scored at 3-2 you think you are losing the game but looking back we are always there scoring goals," he told Press Association Sport.
"We always get a chance with Daniel and Luis and we know they have goals.
"Daniel scored the equaliser which was very important for us as it means we can keep going in the way we started this season and make sure we build on that.
"If we win next week this can be a very important point for us."
Mignolet was Liverpool's best player with a string of saves in the second half as Everton pushed, initially, for their equaliser.
However, even he could not prevent the Reds' weakness at set-pieces being exploited as with the first coming from a free-kick and the third a corner.
"As a goalkeeper you don't want to be busy. You like it in training but you have to do the things you are asked and do the best you can," he added.
"It is not nice to concede from set-pieces but we also scored from set-pieces (all three goals).
"We have to make sure we do things better in the next few games.
"But Romelu is a physical presence and sometimes you have to give credit to the attacker as well."