Arsenal midfielder Jack Wilshere hails Olivier Giroud as Arsenal's best player this season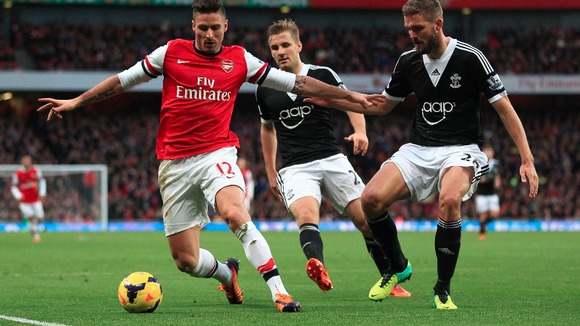 Olivier Giroud has been Arsenal's best player this season, according to England midfielder Jack Wilshere.
The France striker netted a brace against Southampton at the Emirates Stadium - the first gifted by a blunder from goalkeeper Artur Boruc - to take his tally into double figures.
Giroud has produced the perfect response following Arsenal's summer pursuit of Liverpool forward Luis Suarez. Even though the likes of 11-goal midfielder Aaron Ramsey and £43million club-record signing Mesut Ozil have grabbed the headlines as Arsenal moved clear at the top of the Barclays Premier League, Wilshere feels Giroud deserves all of the plaudits.
"Olivier has been really impressive, especially at the beginning of the season when everyone was saying that Suarez was coming in to take his place," said Wilshere.
"For someone playing in that position it would have been tough for him to lose his place, but he has shown great character and for me he's been our best player this season.
"He holds the ball up and brings others into play, he has learned that side of the game, that the Premier League is tough and sometimes you have to push defenders off the ball.
"He works so hard, he has played nearly every game, but fair play to him because he keeps going and going.
"He has got a great physique and a great base of fitness. Hopefully he can continue that form."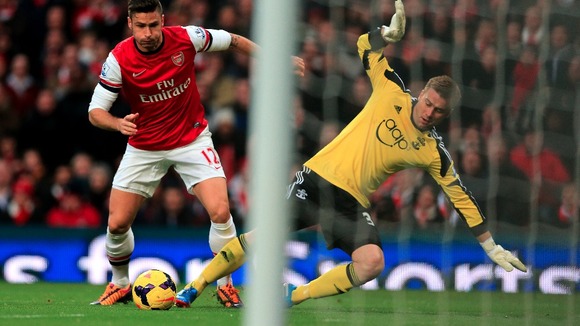 Wilshere found himself roaming all over midfield against the Saints, having seen an early chip come back off the inside of the post.
The 21-year-old feels having the likes of Ramsey, Ozil and Santi Cazorla in the side can only drive the Gunners on.
"We have a lot of players who can play in similar positions and it helps that we can all interchange," he said.
"We are all ball players who can move in and out and change positions and then we have Theo (Walcott) who can run in behind them.
"We have got (Lukas) Podolski and (Alex) Oxlade-Chamberlain coming back, so it is going to be strong competition on the wing and in the middle."
Wilshere, of course, would love to be able to be at the heartbeat of the team every week.
"I have read the manager saying that I want to play in the middle, in a deep-lying position, but at the moment the team are going well so I have to play on the wing and that is fine with me," he said.
"There is strong competition for places and Arsenal is a top club, so just to get on the pitch is fine.
"I can play on the right, coming in on my left foot. I feel I can do a decent job there, so I am happy at the moment."
Wilshere's fitness for both club and country continues to make headlines.
The midfielder, though, will not let concern over his longevity get in the way of producing consistent performances in a World Cup.
"People talk and say 'oh, he's not going to be fit' so it is down to me to prove them wrong, get on the pitch and show what I can do," he said.
Gunners boss Arsene Wenger was pleased to see his side dig in for the victory against one of the Premier League's form teams who had only lost one in the Premier League beforehand.
"This win shows we are ready for a fight when it doesn't go as fluently as we wanted," Wenger said.
"We could see a good togetherness to help each other out because we knew that we were sometimes in trouble and you felt that they were ready to fight for each other.
"That is the solidarity level that was needed. It is very important."