The stats suggest Chelsea manager Jose Mourinho was wrong to send Romelu Lukaku to Everton
by Chris Mendes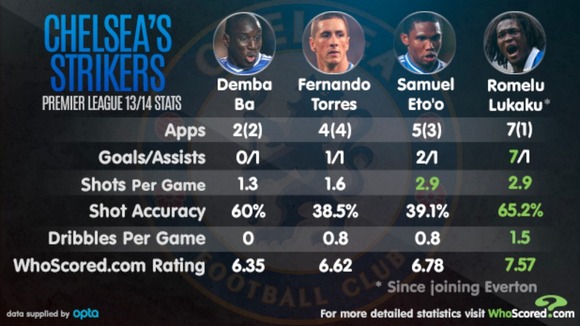 Chelsea are only four points behind Premier League leaders Arsenal after 12 matches and Jose Mourinho's team qualified for the Champions League knockout stages in Switzerland tonight.
All of that means diddly-squat when debating whether they were right to send Romelu Lukaku on loan to Everton.
Mourinho's men qualified at Basel despite losing 1-0 and guess what? None of their strikers managed to score, yet again.
If only Lukaku had stayed, the Blues could be on top of the Premier League. They may have been worse off too, it's all hypothetical.
What you cannot argue with are facts and there are plenty telling us the Belgian international should be Chelsea's first choice forward ahead of Fernando Torres, Samuel Eto'o and Demba Ba.
Since moving to Everton, Lukaku has scored more goals than any of Chelsea's strikers, he's averaging more shots per game and has the most impressive shot accuracy.
None of Chelsea's strikers have managed more than Lukaku's single assist at Everton and you must remember he is playing for a team with less quality than Jose Mourinho's side.
Dribbles per game? You guessed it, Lukaku comes out on top once again. Can anyone sensibly explain why he isn't producing this incredible form for Chelsea?
Some say Lukaku is still too inexperienced for a team of Chelsea's stature, yet Wayne Rooney was a year younger when he made an immediate impact at Man United.
Others suggest that sending Lukaku on loan to Everton was a stroke of genius because he will take points off Chelsea's Premier League title rivals, like he did by scoring twice against Liverpool on Saturday. That's a foolish argument.
Clubs do not farm their best players out on loan for this reason. Can you image Man United sending Robin van Persie or Wayne Rooney to Swansea in the hope they score goals against the likes of Chelsea, Arsenal and Man City? It would never happen.
Jose Mourinho is probably the best manager in England - his remarkable trophy haul speaks volumes - but you must question his wisdom here.
Unfortunately, we will never know if the Special One regrets sending Lukaku out on loan this season. He's far too clever for that.
Thanks to WhoScored for the stats