Arsenal defender Per Mertesacker welcomes talk of a contract extension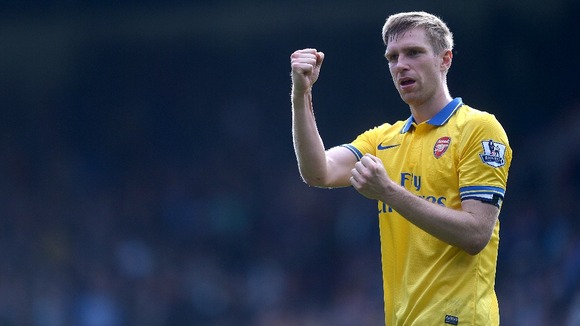 German defender Per Mertesacker finally feels settled at Arsenal and would welcome the "reward" of a new contract offer.
The 6ft 6ins centre-back has grown in stature at the heart of the Gunners rearguard alongside Laurent Koscielny this season, the duo helping secure another clean sheet in the 2-0 win over Marseille at the Emirates Stadium which put Arsenal within touching distance of the last 16 of the Champions League.
The 29-year-old admits it took him a while to settle following a switch from Werder Bremen on transfer deadline day in August 2011, with an ankle injury later ruling him out of Euro 2012.
Now, though, Mertesacker - who has become a cult favourite with Arsenal supporters - intends to make the most of his consistent form to help drive the Gunners on to success both in the Barclays Premier League and in Europe.
"The first year was tough for me, a very tough challenge, but the club and the manager always trusted me in a special way," said Mertesacker.
"I think it is a little reward that we are talking (about a new contract), because I still have one-and-a-half years left.
"There is no rush, but it seems that some people are delighted with my performances at the moment. I am pleased with the situation."
Mertesacker, whose headed goal gave Germany a 1-0 friendly win over England at Wembley during the international break, recalled: "I went through a lot of difficulties and a lot of mistakes at the beginning, but the manager always said I would get through it because I was a good player.
"I took my time to settle down completely and there were a lot of reasons.
"I missed completely the pre-season (before joining Arsenal), so it was really hard because I had to work straight away to play straight away.
"It took me a while to get to that level, but the manager always trusted me and said I was intelligent enough to cope with problems.
"Then I got a big injury in my first year and I missed Euro 2012, so I was fit for my second season.
"Maybe it was a good thing that I missed the competition with Germany to train and get my body fit."