Everton captain Phil Jagielka confident the Toffees will beat Stoke without injured Leighton Baines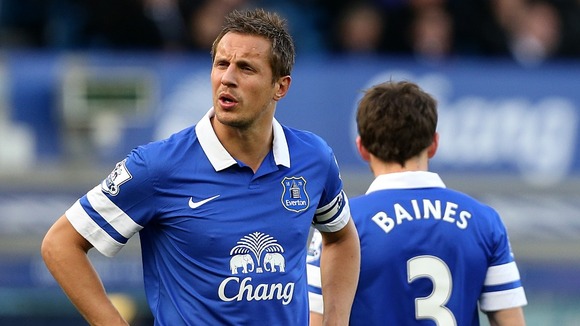 Everton captain Phil Jagielka is confident they will find a way to cope without injured left-back Leighton Baines.
The England defender has been ruled out for up to six weeks with a broken bone in his right foot and his absence leaves a huge hole on the left side of the Toffees' defence.
Baines has played every minute of Everton's last 51 Barclays Premier League games so his unavailability for Saturday's visit of Stoke will bring a degree of unfamiliarity to a defence which has traditionally prided itself on being a tight unit.
"Bainesy has probably missed three or four games with a slight hamstring strain over the last five years and the left-back slot has always been done blindfolded when the manager has come to write the teamsheet," Jagielka said.
"When someone does get injured and you are going to miss him from between one and six weeks there is going to be a little bit of to-ing and fro-ing with who is going to play.
"We've been fortunate that we have not had to do that so far so we will look at the positives in that respect and deal with what's to come.
"I'm sure the manager will enjoy the challenge of coming up with the right personnel and formation to play against Stoke to come away with the three points.