Redmond targets England place after Townsend inspiration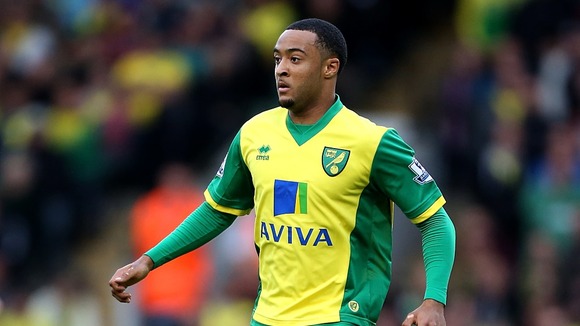 Norwich winger Nathan Redmond hopes to follow former team-mate Andros Townsend and play his way into the frame for a "dream" place in England's World Cup squad.
The 19-year-old - signed from Birmingham in a £3.2million-deal during the summer - has impressed in a Canaries side which is struggling for consistency, losing seven out of their opening 12 Premier League games.
Redmond has already featured for the England Under-21s and feels if he can continue to produce consistent displays for Chris Hughton's side at the top level, then Three Lions boss Roy Hodgson could well be forced to take a look at him before deciding on his final plans for Brazil next summer.
"I have seen that (England talk), but I never really read too much into it," said Redmond, who is likely to start against Crystal Palace at Carrow Road on Saturday following injury to widemen Anthony Pilkington and Robert Snodgrass.
"If I keep performing as well as I have done, then everything else will take care of itself.
"I am 19 now, and there are not many young English players who will be playing in the Premier League every week.
"If we do perform well in the Premier League, then it will not go unnoticed, as you see with Andros and (Everton midfielder) Ross (Barkley).
"If I give a good account of myself and Roy Hodgson wants to involve me, then it would be a dream to be playing for England seniors.
"But at the moment, I am just taking my time developing at Norwich, then everything else will take care of itself."
Redmond added: "When you see players like Andros starting at Wembley and scoring his first England goals, it is an inspiration for all young English players.
"I was with him at Birmingham two years ago when he was on loan, and seeing how far he has come, it is something which is really inspiring.
"When we played together back then, he was a bit frustrating though - because he used to always have this one run back and forth every single time and we were all like: 'just cross the ball'!
"But you could see he was a great lad around the training ground and would always wrap one into the top corner with his left foot.
"He was just one of those players that you could see he had something.
"Now, Andros is now benefiting from playing in the Premier League week-in and week-out with Tottenham and the jump in his development has been massive."
Norwich manager Hughton worked with Redmond when he was in charge of Birmingham, and believes the young winger is on course for a bright future.
"He is certainly giving himself the best opportunity because he is someone who walks very hard on the training pitch and anyone who has spoken to him would realise he is a very mature young man for 19," he said.
"Nathan will have ups and downs with his progress, and even within games where he will show great quality and then perhaps not be as involved, which is partly due to the position he plays as much as his age, but he will give himself every chance of developing his game and becoming a very good player."