Sturridge efforts in Liverpool training produce desired results for Rodgers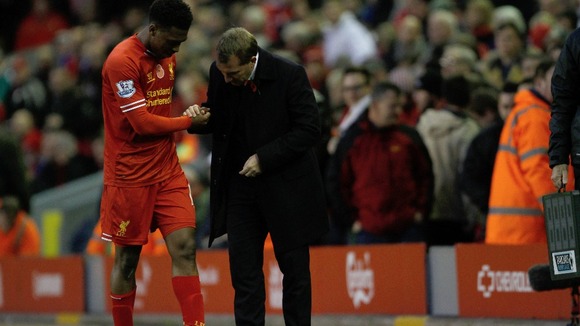 Liverpool manager Brendan Rodgers' decision to drop Daniel Sturridge for the Merseyside derby has produced the desired response from the striker.
The England forward was left on the bench for the clash at Goodison Park as the Reds boss was not convinced, having watched him in training, about the 24-year-old's fitness after he played 90 minutes in the friendly defeat to Germany.
Sturridge ultimately proved his worth with his ninth league goal of the season - an 89th-minute equaliser in the 3-3 draw against their near-neighbours - and in a full week of training has since shown Rodgers determination to regain his place.
"I think that is what good players do," said the manager.
"Players will react differently. You will find some players, if they are not in the team, they just shrivel and die and have no fight.
"The top players when they don't play they show you every single day what they can do and that has been the case this week.
"He has certainly trained very hard this week. He has been really determined, strong and aggressive and he looks ready for the weekend.
"He has worked exceptionally well and when he does that his quality is there for all to see.
"We have another day to go to prepare and see where all the players is at.
"I like to give every player the chance to show they can be in the team."