Everton boss Roberto Martinez not interested in fans perception of former manager David Moyes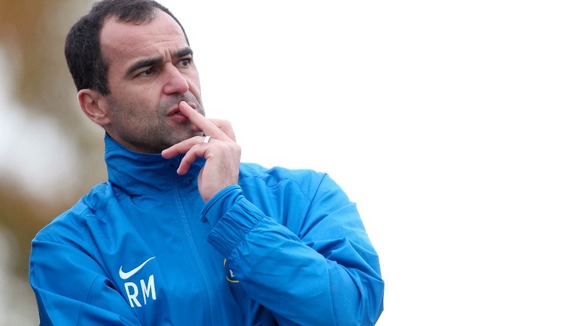 Manager Roberto Martinez admits he has not given much consideration to the state of predecessor David Moyes' reputation with Everton fans.
Just a few weeks after leaving Goodison Park for Old Trafford the Scot made what was considered an insulting and derisory offer by the Toffees for Marouane Fellaini and Leighton Baines.
United offered £28million for the pair just a short time after the expiry of Fellaini's £23.5million buy-out clause, having previously bid £16million for the Belgium international.
That effectively massively under-valued Baines even at £12million and was given short shrift by Everton.
Fellaini eventually went late in August for £27.5million but speculation persists United will return for Baines - currently sidelined by a broken toe - in January.
"I don't think that is something that I spend much time (thinking) about," said Martinez when asked about whether Moyes had tainted his relationship with fans after 11 years at the club.
"I think David Moyes did a fantastic job over the last 11 years and that is what I want to keep.
"Everything else that has happened are normal situations which would occur in football
"From our point of view I will always look at Everton in terms of getting stronger and progressing internally and on the pitch and I think we have done that in the last five months.
"It is not our style to look elsewhere (at other clubs and managers).
"We want to assess ourselves what we do internally, not having to look elsewhere."