England manager Roy Hodgson has no regrets about playing Daniel Sturridge against Germany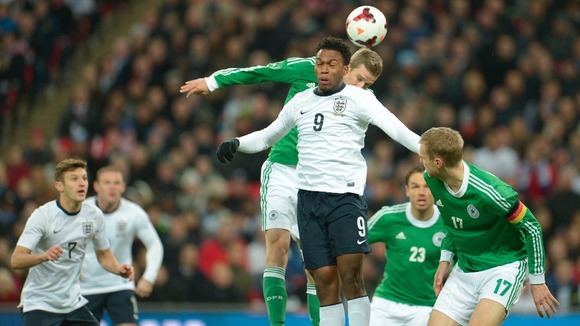 England manager Roy Hodgson has no regrets over his decision to play Daniel Sturridge against Germany last month.
Sturridge had to start the Merseyside derby on the bench on November 23 because Liverpool boss Brendan Rodgers said the player was unfit following his appearance for England against Germany four days earlier.
Rodgers said after the 3-3 draw: "Anyone who saw the game could tell he was not fit. Because he played 90 minutes, he couldn't train because he has to recover."
Sturridge reported for England duty that week with a thigh injury and, even though he was left out of the team to face Chile, the striker played 90 minutes against the Germans.
The weekend before the clash against Joachim Low's side, Sturridge admitted he was carrying the injury, but declared that he wanted to play at Wembley.
Given that Hodgson has had such little time to have a look at Sturridge within the England fold because of previous injuries, he was desperate to start the player against Germany.
The 66-year-old, who used to manage Liverpool, was therefore unrepentant over his actions, declaring that he had to field the player in order to test his desire to play for his country.
The England manager said: "Dan has pulled out of a few matches with us for injury reason.
"The first game he played (against Ireland) he got injured. It was important for me to, if you like, test his resolve a little bit.
"I suppose you could argue we did put his resolve a little bit to the test.
"I might have been guilty of putting that resolve to the test, but I don't apologise for it.
"And I am delighted he did get out there, even though he maybe himself didn't feel 100 per cent because that means in future I will know I can trust him as an England player and he is not going to be playing when he feels like it - he is going to be playing when he's fit to play."
Sturridge admitted to carrying the injury into the Germany match, but he was adamant that he would play.
The striker has since come out and said he would never turn down the opportunity to play for his country.
Hodgson insists England went through all the correct procedures in the run-up to the game against Germany. He says Sturridge's thigh problem was not severe enough to keep him out of the running for the game.
"He had scans and there was nothing on the scan," Hodgson said.
"I believe the injury that kept him out at the weekend was nothing to do with the injury he was complaining about after playing for Liverpool.
"Daniel Sturridge is a guy that has burst onto the scene. We think he will be an interesting player, but of course I don't have that many months ahead to really sort that out."