Arsenal and Spurs top-rated combined XI this season based on Premier League stats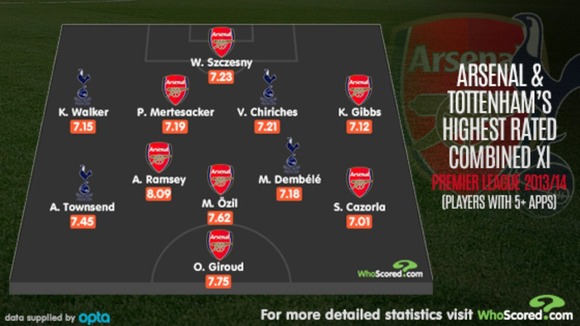 We asked our friends at WhoScored to tell us which Arsenal and Spurs players qualify for a combined North London XI, based on this season's Premier League stats after 14 games.
The Gunners are four points clear of Chelsea at the Premier League summit and ten clear of Spurs, whose late comeback at Fulham this week relived some of the pressure on under-fire manager Andre Villas-Boas.
The Portuguese boss lost Gareth Bale to Real Madrid over the summer, but spent over £100m strengthening his squad with Erik Lamela, Roberto Soldado, Christian Eriksen, Paulinho, Nacer Chadli, Etienne Capoue and Vlad Chiriches.
Romanian defender Chiriches scored at Craven Cottage this week, and he's the only player AVB bought who qualifies for this North London combined XI.
The team features the best rated footballers at Arsenal and Spurs this season, who have played at least five league matches and sees the Gunners dominate with seven players compared to Tottenham's four.
What do you make of the team? Let us know @ITVFootball
Highest rated players
Aaron Ramsey 8.09
Olivier Giroud 7.75
Mesut Ozil 7.62
Andros Townsend 7.45
Wojciech Szczesny 7.23
Vlad Chiriches 7.21
Per Mertesacker 7.19
Mousa Dembele 7.18
Kyle Walker 7.15
Kieron Gibbs 7.12
Thanks to WhoScored for providing the stats