Spurs match winner Lewis Holtby praise Andre Villas-Boas' influence after Fulham win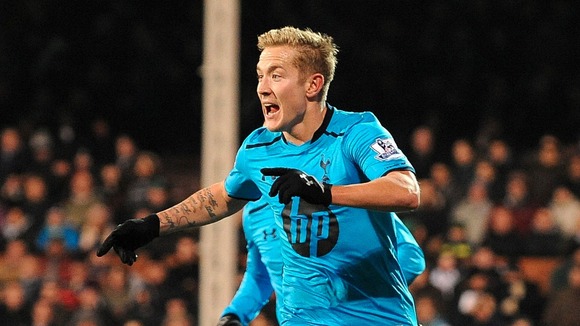 The "bad mood" outside the Tottenham camp has created a siege mentality inside it, according to midfielder Lewis Holtby.
The Germany international climbed off the bench to strike Spurs' winner in Wednesday night's 2-1 victory over Fulham at Craven Cottage.
And then the former Schalke man moved quickly to defend manager Andre Villas-Boas, after Spurs had ended their run of four winless Barclays Premier League matches.
The 23-year-old claimed Villas-Boas is "very close to the team", and said the Tottenham squad have not discussed criticism of the current White Hart Lane regime.
Holtby said: "We are sticking together. We are not discussing things that are happening outside - that is not our job.
"Our job is to get points to win games and make the fans happy. That is our main objective.
"We have to do our talking on the pitch. We were responsible for that disaster at Manchester City but the way we responded after that has been good. We have to carry on doing that."
Admitting Spurs are growing tighter thanks to Villas-Boas' influence, he said:
"He bonds us together and is very close to the team. Everyone accepts him and his way of playing football.
"There is a lot of negativity coming from outside but we are all sticking together. Bringing this bad mood into the team will not help. We are positive and we know that the season is long.
"We all stick behind the gaffer. We give our best.
"Of course we had a tough time in November but last night we got a good result at a difficult place."