Arsene Wenger urges Arsenal to capitalise on 'positive pressure' against Manchester City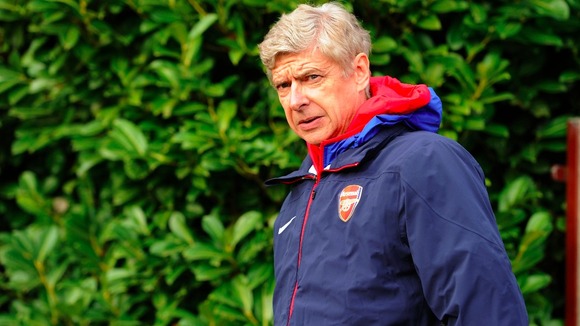 Arsenal manager Arsene Wenger has warned Manchester City they cannot afford to lose Saturday's showdown at the Etihad Stadium as his side look to increase the pressure in the Premier League title race.
The Gunners can steal a march on their rivals with victory in the match switched to a lunchtime kick-off for television, when Wenger's men can open up an eight-point lead, while City would be left some nine off the summit.
Wenger accepts the final outcome could have a big impact on the aspirations of both sides heading into the hectic festive schedule, which sees Arsenal host Chelsea on December 23.
"Of course [a win] strengthens your beliefs, but I am convinced we believe in ourselves anyway, no matter what happens," said Wenger, whose side were given little recovery time from the midweek Champions League clash away to Napoli, which they lost 2-0 on Wednesday night.
"But if you are in City's position and they lose, then they are nine points behind, so they have more negative pressure than we have.
"We have a positive pressure that we can make a big difference with them, so let's look at it like them.
"We have an opportunity to make the difference with everybody else tomorrow morning, early we play first.
"We have an opportunity to go from five (points) to eight, that is fantastic - we have to look at it like that."
Wenger added: "There is always a pressure as you want to do well and be the best, but it is positive (to be leading the table).
"We have a cushion, so we are not really under massive pressure.
"We have an opportunity to show our strength and that is what we want to take."
Wenger expects a much-improved display from their last visit to Manchester, when a slow start resulted in a 1-0 loss at United in November.
"That is what we can learn from Old Trafford, is that it took us one half to be completely ourselves," the Arsenal manager said.
"I think we have learned from that and we will go into the game tomorrow on full cylinders.
"I believe first of all that you need a strong defensive performance and maybe the best way to do that is to attack and [keep] the ball and not let them find their flow."
Wenger maintains Arsenal cannot use a tough schedule to be an excuse for a below-par effort.
"To be completely honest, if you had given me the opportunity to do it, I would not have done it like that, but I do not complain," he said.
"That is not an excuse for us at all, we have the fixtures we have. It is another opportunity to show we have the mental strength to deal with it."
Wenger continued: "There is no fatigue, not on the medical analysis we have.
"It is quite sophisticated now and we don't see any signs. The signs we (do) see on the players, I can rest them."
Wenger has challenged his side not to lose focus following a 2-0 defeat to Napoli - which saw Arsenal qualify for the knockout stages as Group F runners-up - with the domestic fixtures coming thick and fast over the next fortnight.
"I don't deny that every game has a vital importance because of the influence on confidence, or the belief of the team," the Gunners boss said.
"I believe what we just want from our team is to show during this period that a huge level of commitment and belief, that can make a massive difference but the period is important."
England forward Theo Walcott could be in contention to start against City, while full-back Bacary Sagna may also be fit following his hamstring problem.
German forward Lukas Podolski, meanwhile, stayed in London this week to step up his rehabilitation after a torn hamstring sidelined him since the second leg of the Champions League qualifier against Fenerbahce in late August.
Off the pitch, majority shareholder Stan Kroenke has bought 13 new shares in Arsenal's parent company, estimated to have cost around £200,000, to increase his stake in the Emirates Stadium club to 66.85 per cent.