Sandro declares Spurs loss to Man City as most difficult moment of career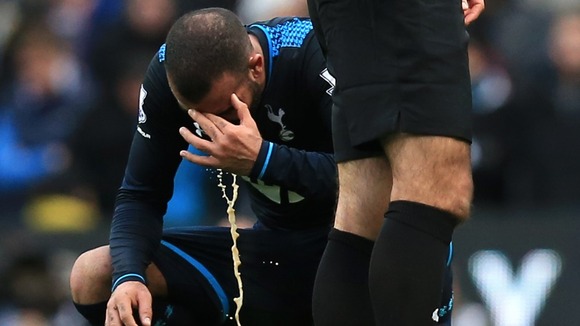 Sandro has admitted he felt helpless during his "most difficult moment in football" when Tottenham slumped to a 6-0 defeat at Manchester City.
The Brazilian midfielder feels Spurs have quickly moved past that November 24 debacle in the North West, though, and has backed manager Andre Villas-Boas to guide them to a top-four Barclays Premier League finish.
Tottenham have shrugged off that Etihad humiliation by drawing with Manchester United and beating Fulham and Sunderland.
Spurs host Liverpool in league action on Sunday, with Sandro confident they can continue that recovery.
"It was my most difficult moment in football," he told the BBC's Football Focus.
"Six-nil was so bad.
"I felt on the pitch I couldn't help.
"Everyone had to be close after this, because everyone talked about this game.
"Against United we put more passion and we were stronger on the pitch, and this helped.
"We are doing well now, so I think it's passed.
"We are comfortable as a team: we play for him (Villas-Boas) every game.
"We are ready to move on and keep strong to put Tottenham in the top four."
The 24-year-old admits winning the World Cup next summer in his home country would be a "dream come true".
He said: "It would mean everything to me, it would be my dream come true.
"We know the responsibility to win, there's a lot of pressure, but everyone is ready, everyone is a great player with a lot of experience.
"So let's do it."