Moyes wants more protection for Januzaj after Villa 'queued up to kick him'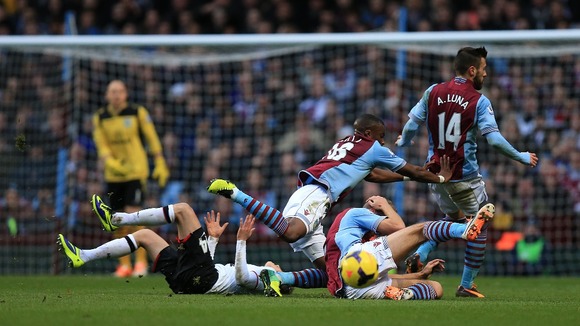 Manchester United manager David Moyes has called for more protection for Adnan Januzaj after accusing Aston Villa's players of queuing up to kick the youngster in Sunday's 3-0 win at Villa Park.
Danny Welbeck's first-half brace and Tom Cleverley's first Premier League goal in nearly a year were enough for United to stave off the threat of a hat-trick of defeats.
Darren Fletcher's return after almost a year out with a chronic bowel complaint put further shine on an impressive day for the visitors.
But Moyes was not happy at the treatment Januzaj received from the home players, and fears the 18-year-old is going to get injured if something is not done to prevent the rough-house tactics.
"Just a bit," said Moyes, when asked if he felt Januzaj was being kicked.
"In every game, I don't know how many tackles there have been on him.
"That is why I am annoyed with fourth officials and referees. He is definitely not getting protected and before you know it the boy will get a sore one.
"It is terrible what they (the officials) are allowing to go on at the moment. They (opposition players) are queuing up to see who can kick him next.
"(Matthew) Lowton was booked but there were that many tackles on him from different players.
"It is a recurring theme and it's the referees' job to sort it out. You would hope they would recognise that.
"Adnan will just get up, walk away and get on with it. That is one of his biggest attributes."
Not surprisingly, Villa boss Paul Lambert rejected the assertion of his team being over-physical.
"My team are not a physical team," said the Scot.
"We are a young side and maybe sometimes over exuberance gets the better of them but I have never sent anyone out to kick them."
It was Januzaj's bullet header that provided the rebound for Welbeck to tap United in front.
The England striker, selected in the absence of Robin van Persie, was netting for the first time in the Premier League since the opening day of the season and quickly added another when he swept home Antonio Valencia's cross.
"It is really important for Danny," said Moyes.
"He is a forward and he needs to get himself goals. He got two poacher types today and he could have had had another.
"With Robin out he stepped up to the mark. When you get opportunities, you show what you can do. Danny certainly did that."