Europa League last 32 draw: Spurs to face former boss Ramos, Swansea travel to Napoli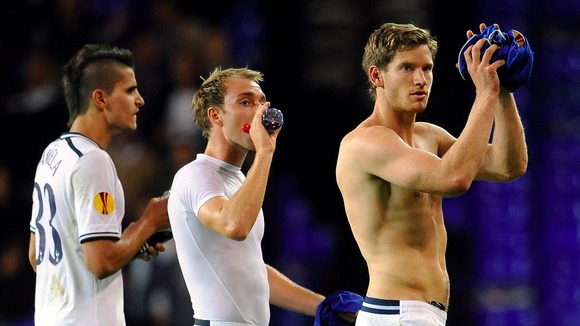 Spurs have been drawn against FC Dnipro in the Europa League last 32 after the draw was made this afternoon.
FC Dnipro v Spurs
Real Betis v Rubin Kazan
Swansea v Napoli
Juventus v Trabzonspor
Maribor v Sevilla
Plzen v Shakhtar Donetsk
FC Chornomorets v Lyon
Lazio v FC Ludogorets
Esbjerg v Fiorentina
Ajax v Salzburg
Maccabi Tel-Aviv v FC Basel
FC Porto v Eintracht Frankfurt
FC Anji v Genk
Dynamo Kyiv v Valencia
PAOK v Benfica
Solvan Liberec v AZ
Last 32 round games will be played on 20th and 27th of February, with seeded teams playing the decisive second leg matches at home.
The draw for the last 16 of the competitions was also made and here's who Spurs and Swansea will face if they make it past Dnipro and Napoli respectively.
Solvan Liberec or AZ v FC Anji or Genk
Lazio or FC Ludogorets v Dynamo Kyiv or Valencia
FC Porto or Eintracht Frankfurt v Swansea or Napoli
FC Chornomorets or Lyon v Plzen or Shakhtar Donetsk
Maribor or Sevilla v Real Betis or Rubin Kazan
FC Dnipro or Spurs v PAOK or Benfica
Maccabi Tel-Aviv or FC Basel v Ajax or Salzburg
Juventus or Trabzonspor v Esbjerg or Fiorentina