Zabaleta aims for Man City to keep up ruthless home form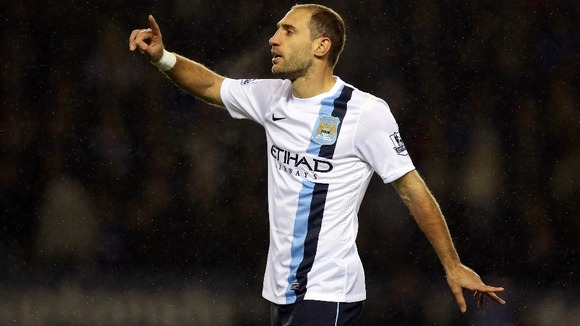 Defender Pablo Zabaleta has warned that Manchester City are in no mood to ease up on their visitors.
City maintained their 100 per cent home record in the Barclays Premier League and climbed to second in the table with a 2-1 win over Liverpool on Boxing Day.
The victory may have been harder to achieve than a number of others this season but City's statistics ahead of Saturday's visit of Crystal Palace remain formidable.
City have scored 37 goals in winning all nine of their games at the Etihad Stadium and Zabaleta wants them to become the first side to complete a full Premier League season clean sweep.
"There's always a first time to do that," said the Argentinian.
"Whoever we play, we play to win, it doesn't matter who we have got in front of us. That is very important for that team.
"We feel good and always want to show to the other teams that at the Etihad we are a very strong side.
"For the other teams it's hard to come here and get points and this is good for us."
City won 18 of their 19 home games during their title-winning season of 2011-12, a record they share with Chelsea (2005-06) and Manchester United (2010-11).
Yet eclipsing such landmarks is not City's main objective and will not detract from the challenge of winning trophies.
City, who trail leaders Arsenal by a point, still need to repair an imbalance with their away form having lost four of their seven games on their travels.
Zabaleta said: "We have to keep working hard and keep very focused on what we are doing.
"It doesn't matter if we are playing home or away, we need to keep playing with the same intensity and I think when we play in our best form, we can beat anyone.
"We are in a good way for the title, one point behind the leaders.
"There's still a long way to go and we cannot relax. We have to play against the best teams in away games so it's going to be very tough.
"But we always play to win games. We don't try to think about records but we take it game by game."
Zabaleta, 28, made a welcome return against Liverpool after missing last weekend's trip to Fulham with a hamstring injury.
Zabaleta had limped out of last week's Capital One Cup quarter-final win at Leicester to leave City with a problem at right-back with Micah Richards also sidelined.
Zabaleta said: "I didn't feel anything in my hamstring.
"It was huge risk to play because normally a small grade-one tear takes two weeks to recover and I played eight days after getting injured.
"It was a hard decision for the manager but as a player you always want to play and against the big teams.
"It was important for me to play against Liverpool and we didn't have a right-back in the team with Micah also injured.
"I was a bit nervous before the game because it was a huge risk, but at the end I'm happy because I didn't feel anything. I told the manager I wanted to play.
"We needed to try set-pieces in training and he asked me because it was important for him to make a decision, and I said I wanted to play."