Lukaku brings more to Everton than goals, says unconcerned Martinez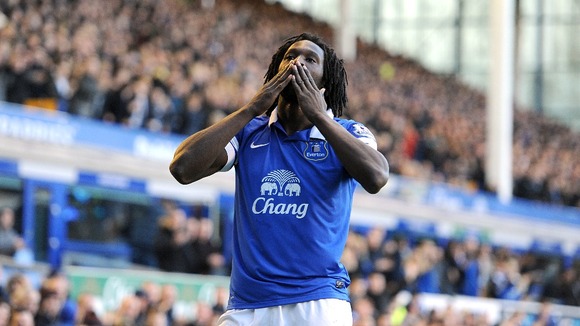 Everton boss Roberto Martinez insisted after his side's 2-1 victory over Southampton that it was merely a "bonus" that Toffees top-scorer Romelu Lukaku had broken his goal drought in the contest.
Lukaku, who is on loan at Everton from Chelsea for the season, struck home what proved to be the winner in the 74th minute of the Barclays Premier League clash at Goodison Park when he converted from James McCarthy's pass.
The goal, the Belgium striker's ninth for the Merseysiders this term, was his first in six games.
But Martinez disagreed after the match with the suggestion that Lukaku "needed" to get back on the scoresheet, with the Spaniard being keen to highlight other aspects of the frontman's game.
"From the outside, yes, you are going to judge a striker by his goalscoring ability and the numbers," Martinez said.
"But for me, if he scores goals, great - but it is a bonus.
"I judge him in terms of all the aspects. I thought he was magnificent against Swansea (a recent 2-1 win) without scoring.
"I couldn't be happier with his finish today, but I think that is an add-on."
Asked if Lukaku had been getting down at all about his run of matches without scoring, Martinez added: "No - we have been working on other aspects of his game.
"We have never been in a position where we were getting a little bit worried and thought that was his only role as a striker.
"You want strikers to score goals, but in the same way, he attracts two or three opposition players at the moment, so it is understandable that other players get that stage - players like Seamus Coleman, who gets into that position really well and takes advantage of it.
"It is a team effort and Romelu has not been down at all - it has been the opposite."
It was full-back Coleman who put Everton ahead in the ninth minute, bursting into the box from the right and unleashing a powerful shot into the top corner of the net.
Southampton substitute Gaston Ramirez equalised in the 71st minute when he beat Toffees goalkeeper Joel Robles, who it appeared should have done better in his attempt to save the effort, with a shot from distance.
Regarding the leveller and Robles, who was making his first Everton Premier League start, Martinez said: "Joel is blaming himself, but I don't think that is the case.
"It is one of those goals where when you watch the replay, you feel the goalkeeper should have had it.
"But I thought when I watched it live, you should probably blame the people who design these footballs.
"If you hit them well, they swerve everywhere and it becomes a gamble for the keeper - it can hit the arms, it could have gone anywhere.
"When you watch it live, I don't think Joel is to blame. I think Gaston Ramirez hit the ball really well.
"I thought Joel had a really good game - he was in control of his box, and showed great understanding with two centre-halves he has never played with before.
"I feel it was a very good debut."