Wengers calls for Arsenal players to end year with focus on title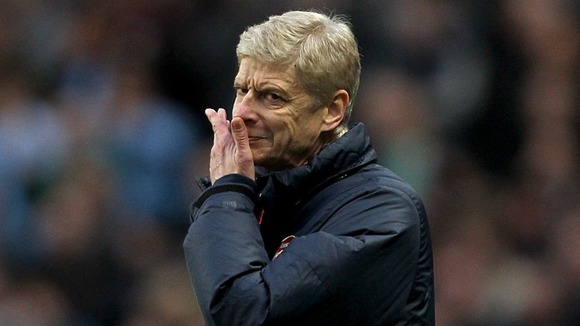 Manager Arsene Wenger has warned his side their championship ambitions will be "in trouble" if they lose focus as the Barclays Premier League title race hots up heading into 2014.
The Gunners head to Newcastle on Sunday looking to maintain their place at the summit after coming from behind to beat West Ham 3-1 on Boxing Day.
However, there is now little room for error if they are to keep ahead of the chasing pack, with Manchester City, Liverpool and Chelsea all looking to exploit any weakness heading into the new year.
"We want to stay in the race," said Wenger, who could be without midfielder Aaron Ramsey for several week's if scans confirm a serious thigh injury which forced the Wales midfielder off at Upton Park on Boxing Day.
"We have won at West Ham and we go game by game with a big ambition - but we know as well that in the Premier League you always set high standards, and as soon as you drop a fraction, you are in trouble."
The Gunners boss continued: "It is down to consistency and until now we have been consistent.
"You are always judged on your last result, but at the end of the day it is down to how consistent you will be.
"We have just had some games that were very difficult because we played against Everton at home, we played in Naples (in the Champions League), we played at Manchester City and against Chelsea, so you know that you could drop some points there.
"But the most important thing is to come back and be consistent, as you would expect from us."
Arsenal secured a place in the top four and another shot at Champions League football with a 1-0 victory at Newcastle on the final day of last season, a result which was greeted with jubilation by the players and fans alike.
Wenger, though, maintains the stakes are different this time around.
"We celebrated because it was that or play in the Europa League, so when you see the players today, they extended their contracts on condition that we play in the Champions' League," he said.
"What you want is to fight for the championship and at the moment we are in the race and what can keep us in the race is consistency."
Wenger now has some real options within the squad.
German international Lukas Podolski returned from a four-month hamstring injury lay-off to score the third goal at West Ham, while Czech playmaker Tomas Rosicky rested completely on Boxing Day.
England international Jack Wilshere is back from his two-game ban on Sunday, which will go some part to offset the loss of Ramsey.
Nevertheless, Arsenal are expected to bring in some reinforcements in January, and have been linked with a move for Atletico Madrid forward Diego Costa.
Wenger, though, again refused to be drawn on any of his plans for when the sales open up again next week.
"I am happy with what I have and at the moment the transfer market is closed," he said.