Nicolas Anelka has been asked not to make the controversial 'quenelle' gesture again by West Brom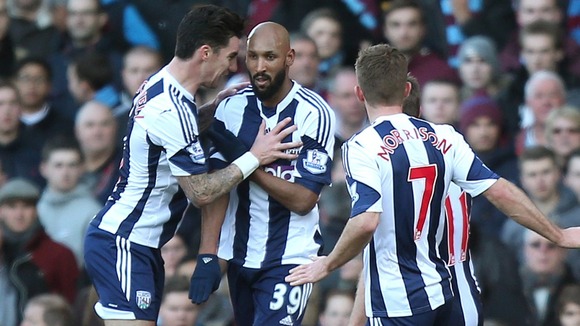 Nicolas Anelka has agreed not to perform his controversial 'quenelle' goal celebration again, according to a statement released by his club West Brom.
The French striker has denied the salute had any anti-Semitic connotations but he caused a storm in his native France by the gesture during the 3-3 draw with West Ham.
West Brom say they accept the celebration has caused some offence and that Anelka has been asked to refrain from doing it again - and that he has agreed to do so.
Nicolas was asked to explain his goal celebration by Caretaker Head Coach, Keith Downing, within minutes of the game finishing at West Ham. Nicolas said that he performed the gesture to dedicate his goal to a friend and vehemently denied having any intention to cause offence.

The Club fully acknowledges that Nicolas' goal celebration has caused offence in some quarters and has asked Nicolas not to perform the gesture again. Nicolas immediately agreed to adhere to this request.
– West Brom official statement.