Lack of options costing Moyes at Man United
by Will Unwin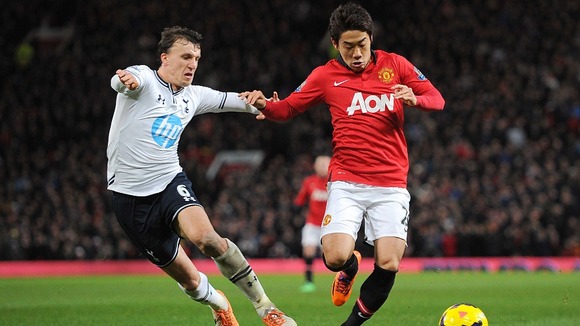 Moulding a team as a new manager is a tricky business, as David Moyes becomes stifled by his lack of options and quality at Old Trafford, after losing against Spurs.
At Manchester United Moyes inherited a squad on a downward curve, struggling to give any impetus to players who are either substandard for the Premier League champions or suffering from waning ability due to age.
A fruitless summer transfer window, in which only Maroune Fellani arrived, meant Moyes was left with a set of men who had so wilfully worked under Sir Alex Ferguson, taking the title last season, but were seemingly held together by their now retired boss.
Whereas his predecessor was the master of rotation, Moyes has realised the need to put out his strongest side at every opportunity, meaning lethargy has kicked in. Minus the injured Robin van Persie and Rafael the eleven who took on Spurs were first choice players.
Sadly, some of those stars are no longer capable of operating in a side battling for silverware, with Patrice Evra giving the impression of a League Two full-back when facing Aaron Lennon's pace and guile.
Another reason for the stagnation in the United ranks is that fact that fringe players have failed to perform when given a chance, giving Moyes little leeway to mix things up. Two attackers who have failed to impress the new manager are Shinji Kagawa and Javier Hernandez, both of whom were on the bench once more on Saturday evening.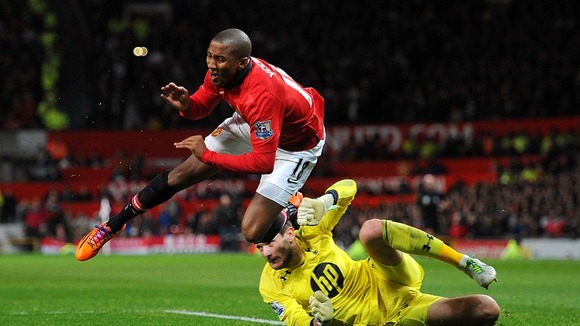 Spurs went ahead against the run of play as Emmanuel Adebayor took advantage of more frailties at the back to head the visitors into the lead in the 34th minute.
In order to combat these failings, Moyes should be looking to acquire some new names in the transfer window to replace his inept stars. Evra is keen on a return to Monaco in the summer, and will not be missed at Old Trafford as his previous skills desert him.
Bringing Leighton Baines in has been Moyes' preferred option ever since he walked through the Old Trafford doors on July 1st last year, but as Fellaini has proved, buying the ones you know doesn't equate to success and at 29, he can't guarantee being a top level player for the more than two years.
A more ambitious, forward thinking Moyes would continually impressive teenager Luke Shaw of Southampton, who has plenty of time to improve, especially as United don't look like they will contend for the title in the upcoming years, so have a more long term approach is vital.
A sign of Moyes' weakened squad was there for all to see when he was forced into changing things, bringing on Kagawa and Hernandez, who both failed to make an impact, at the cost of moving Wayne Rooney into central midfield and Antonio Valencia to right-back.
Rooney began operating in front of his own back four, trying to pull the strings of some weary puppets. The fact he was put into the midfield signified how much United lack a player who can function in that position, something else Moyes will almost certainly have to address this month.
Five minutes after the substitutions, United were 2-0 down as their defence was pulled apart on the break, allowing Christian Eriksen to take advantage of a sleeping Valencia to score from inside the six-yard box.
Danny Welbeck offered some light relief by lifting the ball over Hugo Lloris moments later to halve the deficit, something that brought the team and the fans to life for the first time in the game.
The Red Devils were unable to get a crucial second to earn a point against their spirited opposition, with United trudging off at full-time after their fourth home defeat of the season at an almost silent Old Trafford.
In addition to new faces, Moyes also needs to concentrate of turning round the form of the out-of-sorts players, such as Kagawa and Hernandez.
If Moyes doesn't spend well in January, especially on a central midfielder, then Manchester United could be very much in danger of missing out on even a Europa League place.