Arsene Wenger and David Moyes disagree on whether managers are setting a "terrible example"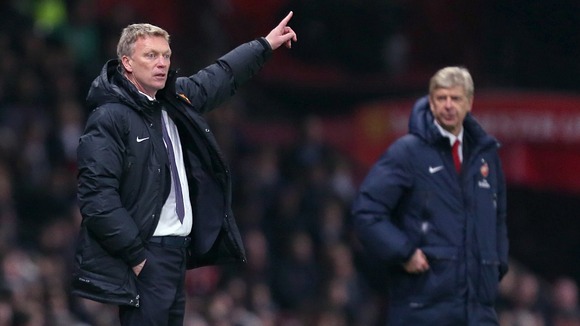 Arsene Wenger concurs with former FA chairman David Bernstein's claim that top-flight managers are setting a "terrible example" but David Moyes disagrees.
Bernstein's comments about managers' touchline behaviour and criticism of officials provoked a furious response from the League Managers' Association, but Wenger said the ex-FA chief was right - and that he too needed to improve.
Wenger said: "I go along with that [Bernstein's comments] and I have some work to so on that front as well."
Manchester United boss David Moyes attracted attention only this week for criticism of Howard Webb after his side's loss to Tottenham.
He thinks, though, that he and his counterparts are not culpable. "I think managers are incredibly responsible," he said.
"The work the LMA do and what managers give back, the help they're trying to give the FA Commission, for example, I think that would be a wrong thing to say about the managers."
Like Moyes, Stoke boss Mark Hughes has recently had run-ins with officials and last weekend was sent to the stands as his side lost at Newcastle.
"I think what Richard Bevan has come out with, I just reiterate every word that he's said," the former Wales manager said.
"It's difficult. There's huge sways back and forth in terms of emotion and how the ebb and flow of the game affects you, in terms of the desire, you have to see fair play and make sure you're competing.
"Human nature is a thing that, on occasions, your emotions can get the better of you and football managers aren't immune to that."
Chelsea boss Jose Mourinho accepted that there are times when managers can go too far on the touchline or with their comments.
"I think managers are the person in the game with more pressure on their shoulders. I think managers they have the most difficult job in the game, plus the referees," said the Portuguese.
"And I think if on isolated occasions managers, they lose their emotional control and they have a certain behaviour that cannot be accepted by the authorities, in this case by the refs, I think we should be punished.
"But be punished in a way where people don't feel the managers are strange or weird or impolite people, or people without control."
Manchester City's Manuel Pellegrini has by and large stayed on the right side of the law since taking over last summer.
"I think it is very difficult to be a referee. The players play too quickly, the players are always trying to cheat because football is cheating," he said.
"I think it is very difficult and I respect them (referees). Of course nobody likes it when the referee whistles against your team when it is wrong, but a lot of time he whistles and gives you an advantage that maybe you didn't have."