Mourinho rules out £50million offer for Napoli's Argentina striker Gonzalo Higuain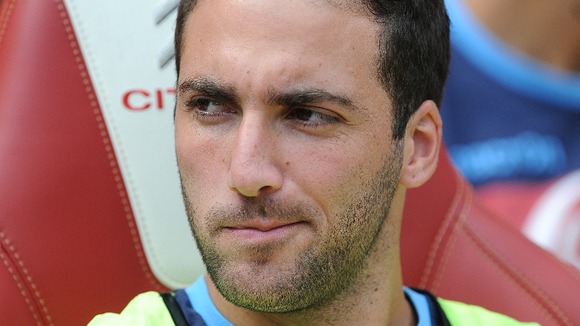 Mourinho quashed reports of a £50million offer for Napoli's Argentina striker Gonzalo Higuain, who played under him at Real Madrid.
Mourinho said: "Nothing is true about Gonzalo. He's a player that I know we cannot get.
"He's a player that moved from Real to Napoli six months ago, he's doing very well, he's adapting very well to Italy.
"I don't believe they're interested in selling Higuain, so why should we be interested in somebody we feel is impossible to come?"
Mourinho again was adamant Chelsea will not be particularly active during the winter transfer window and insisted a striker is not on his shopping list.
"A striker, 100 per cent no," he said.
"The market is open, but for us, almost closed."
Mourinho believes his current squad, third in the Premier League and in the knockout stages of the Champions League, is capable of challenging for top honours this season and will be even better next term.
He added: "This squad is good enough for my first season and for the objectives of the first season and to prepare the next season. We are happy with the squad we have.
"We know what we need for the future. We are preparing the future but competing in the present.
"We are going to fight every game, we are going to try to win every game in every competition.
"We are favourites for nothing. We just want to be favourites for the next game, it's our philosophy."
The next game is against a Derby side managed by Steve McClaren.
Mourinho was close to succeeding McClaren as England boss in late 2007, following his own departure from Chelsea and prior to the appointment of Fabio Capello.
"I was almost there when I left Chelsea, but after that no more chances," said Mourinho, who rates McClaren as a boss following his Dutch Eredivisie success with FC Twente.
"I'm happy to play against Steve, I'm happy to think back. I'm happy with his success in Holland.
"With full respect for the Championship, where very good managers are, I think Steve belongs to a different level.
"Hopefully he's back to the Premier League soon. I'll be happy with that."
Mourinho won the 2007 FA Cup with Chelsea and has promised to field a strong team at Derby.
David Luiz is available following suspension, but Frank Lampard (muscular injury) and Branislav Ivanovic (knee) remain out.