Arsenal legend Ian Wright says Theo Walcott may never get over World Cup heartache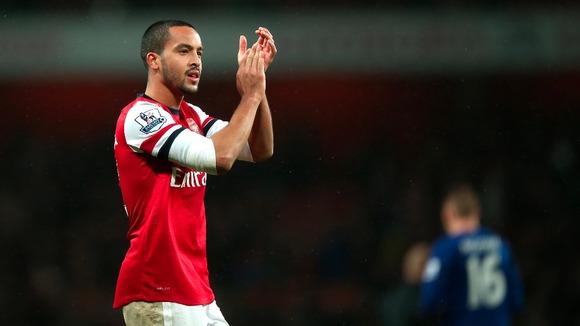 Former Arsenal striker Ian Wright believes Theo Walcott may never "truly get over" missing the chance to play in the World Cup in Brazil.
Walcott will, in all likelihood, miss the showpiece event in South America this summer after the Gunners revealed the England forward would be out for at least six months with an anterior cruciate ligament injury in his left knee.
While the 24-year-old will also be absent for the rest of the season as the Gunners look to win silverware domestically and abroad, Wright believes it is the thought of missing the World Cup in Brazil that will be preying on Walcott's mind.
"He'll be devastated to miss a special World Cup," Wright, 50, told BBC Sport.
"With it being in Brazil - a fantastic place, a fantastic venue for the World Cup - it's a nightmare one to miss.
"It's one of those you don't truly get over."
As a teenager, Walcott was a surprise call-up for the 2006 finals in Germany, where he did not play, and was then overlooked by Fabio Capello for the South African edition four years ago.
And Wright, whose goals helped England qualify for the World Cup in France in 1998 only for a hamstring injury to rule him out of the finals, feels Walcott's pain.
He told BBC Radio Five Live: "As a player it's devastating. I missed out on a World Cup in '98 through injury and it's something that you never truly get over.
"In the end I didn't actually get to play in any but for someone like Theo, who has been there but not played - but he has been there - for this one I feel he would have been ready."