Five forwards to help Arsenal sustain their Premier League title bid
by Chris Mendes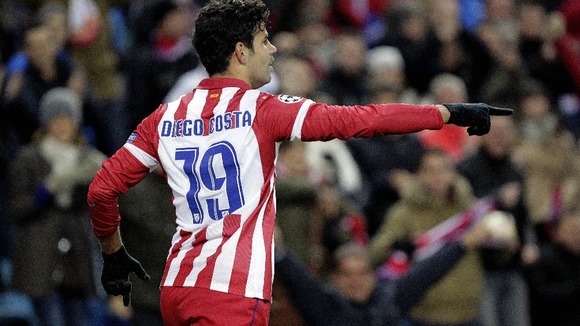 Theo Walcott has been ruled for the reminder of the season and Olivier Giroud's only senior understudy, Nicklas Bendtner, faces a month on the sidelines. What now for Arsenal?
Arsene Wenger has made no secret of his desire to strengthen the squad's attacking options this month and here, we take a look at five players who could help him sustain the club's Premier League title bid.
Diego Costa
The Brazilian-born Spanish international was outscoring Cristiano Ronaldo in La Liga until Ronaldo's two goal show on Monday night edged him back in front. Atletico's talisman has bagged 19 goals in 17 games this season, so why would they sell him? Apparently, Costa has a £32m release clause scribbled into his contract which has sparked interest from England's top clubs. David Moyes has already sent one of his scouts, Robbie Cook, to keep tabs on Costa ahead of a possible bid, but wouldn't he prefer to join the Premier League leaders? There's only one way to find out.
Watch Costa score a brilliant goal for Atletico below
Dimitar Berbatov
Wenger's recent comments about Berbatov suggest the languid forward is a last resort for the Gunners. "Berbatov is a not a name we have considered at the moment," Le Professor conceded. The last three words of that quote suggest he may well turn into a concrete target if the Gunners become frustrated chasing other players. Berbatov has scored 122 Premier League goals and there's little doubt he would fit in well at Arsenal, should Wenger make the uncharacteristic decision to fork out more than £2m on a 32 year-old.
Berbatov to Arsenal fits for me. Awareness of runs / plays that extra pass and tempo in the last third would suit him.
Jackson Martinez
It would be rude to dismiss Porto's Martinez considering how much he's been pining for a move to Arsenal in recent weeks. "I cheered for Arsenal when I was a kid, I love their style of play," he told Portuguese reporters last week. "If I get a chance to play for a high level club like Arsenal I wouldn't hesitate to accept it," he added. The Colombian forward has an impressive goalscoring record of 49 in 64 games in all competitions for Porto. The biggest stumbling block for Wenger is likely to arrive in the shape of Porto chairman Pinto Da Costa, a man who makes Daniel Levy look like Father Christmas.
Watch all 34 of Martinez's goals last season below
Richmond Boakye
Arsenal and Real Madrid are both scouting the powerful young Ghanian, who is on loan with Spanish side Elche from Juventus. Boakye appeared to deny Real Madrid three points in September 2013, scoring a 91st minute headed equaliser after climbing off the bench with 30 minutes remaining. Four minutes later, Cristiano Ronaldo dispatched a spot-kick to deny the hosts, but Boakye's impact was not lost on Carlo Ancelotti. He caused Pepe problems with his power and proved a nuisance for Madrid's back four throughout. At 20 years-old, many will argue he's too inexperienced to make an immediate impact at Arsenal, though Wenger may feel it's wise to move early in order to avoid paying a much larger fee further down the line.
Watch highlights of Boakye against Real Madrid below
Clement Grenier
Arsene Wenger is well known for taking a more than occasional dip into the Ligue 1 market, where he's found the likes of Laurent Koscielny, Gervinho (let's forget that one) and Olivier Giroud. Lyon's Clement Grenier celebrates his 23rd birthday today and may well be celebrating a lucrative move to Arsenal later in the month. He's an attacking midfielder capable of operating just behind a main striker or out wide on the right hand side, something Wenger will have in mind following Theo Walcott's long term injury. Speaking to Le Parisien recently, Grenier admitted he would be "a fool" to rule out leaving Lyon during the window. Interesting.