Pulis backs Sherwood appointment at Spurs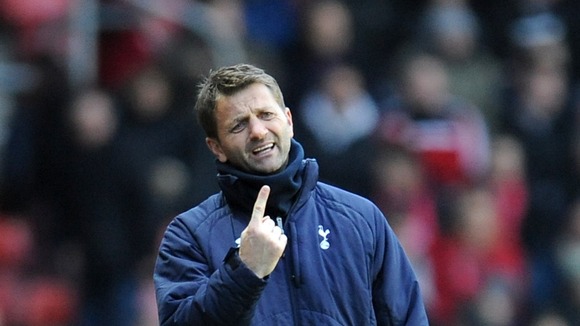 Tony Pulis has praised Crystal Palace's next opponents Tottenham for appointing a young British boss in Tim Sherwood but questioned whether his predecessor Andre Villas-Boas had been undermined in transfer dealings last summer.
Sherwood succeeded Villas-Boas as head coach after the Portuguese was sacked for a number of heavy losses despite a summer outlay of almost £100million on seven players, in compensation for the big-money departure of Gareth Bale.
The spending power of Premier League princes Spurs highlighted the paupers of Palace, who are endeavouring to strengthen to aid their fight for survival and enter Saturday's match at White Hart Lane in 18th place in the table.
Pulis, who succeeded Ian Holloway in November, was not surprised by the appointment of Sherwood, who had no previous management experience, but suggested the former Blackburn and Spurs captain will have little clout in transfer dealings in working under chairman Daniel Levy and technical director Franco Baldini.
"I think Daniel's made a very good appointment," Pulis said.
"Tim's got the potential to go on and be a top manager, without a question of a doubt.
"I'm pleased it's a British coach that gets one of the top jobs and I'm sure he'll make the most of it.
"He was a very good player, a very determined player. He seems a very focused lad.
"He's very lucky to get a club like Tottenham as his first job and I'm sure he'll be determined to make a good fist of it.
"Fingers crossed he does it, as long as we beat them on Saturday."
Asked about Spurs' spending spree last summer, Pulis added: "Was it Villas-Boas who spent all that money? Was it the manager picking the players?
"Because if I had £100million to spend, I'd really want myself to be spending it on players I wanted for my team, for the way I wanted my team to play.
"You can spend £200million but if it isn't on the players that you think are necessary for your team to be successful, you might struggle a little bit."