Liverpool skipper Steven Gerrard 'sick to the stomach' over cruel Theo Walcott injury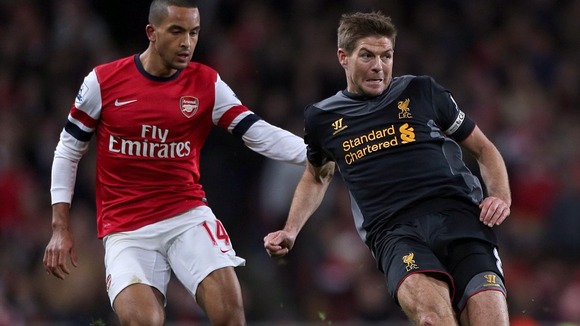 Liverpool captain Steven Gerrard admits that while he felt sorry for his England team-mate Theo Walcott over his season-ending injury, there was a small part of him that thought it could be to his side's advantage.
"I was sick in the stomach (when he heard of the injury) because straight away we are going to the World Cup missing a terrific player, a player who is capable of getting goals and assists and being a star in that tournament," Gerrard told Sky Sports.
"[But] From a really selfish point of view he misses a lot of games for Arsenal and he is a big strength for them and one of their key players.
"They are one of our rivals so a couple of per cent (of me) was not necessarily pleased but a top side missing one of their best players is going to help Liverpool."
While Gerrard thinks they have an outside chance of winning the title he knows a top-four finish is imperative and they must maintain the pressure by winning at Stoke on Sunday.
"This is probably my best chance to surprise this country and countries throughout the world to maybe nick the Premier League," he added.
"Sitting here in the middle of January I have a fantastic chance of having a right good crack and getting involved in a title race.
"If we perform like we have done over the last couple of months we can get involved in the title race so that is very exciting.
"If I could add a Premier League title to my collection it would mean the world to me, it would probably be the best day of my life besides my kids being born.
"I think it would top the Champions League (victory of 2005) because it is the one I haven't got.
"But I'd take fourth now. We have been out of the Champions League for so long to have that chance to play a couple of qualifiers against sides you should beat - I'd snap your hand off but I am confident we can finish higher."