Luis Suarez urges Liverpool to capitalise on title rivals' Champions League commitments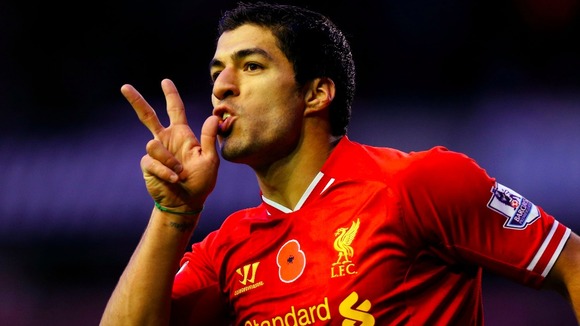 Striker Luis Suarez admits Liverpool have to take advantage of their rivals' Champions League involvement if they want to keep pace in the title race.
The three clubs above them in the Premier League - Arsenal, Manchester City and Chelsea - have all qualified for the knockout stages of Europe's elite club competition.
Aside from the possibility of an extended FA Cup run the Merseysiders are free to focus on the league and Suarez feels this will be key to their hopes.
"All of the clubs ahead of us are in the Champions League and they will be more tired after playing more matches," he said.
"This is an aspect we will have to take advantage of in February and March.
"I have always felt the more matches you play the more comfortable you feel as a player but obviously the intensity of the Champions League is difficult to handle as it tires you and the stress can change you.
"I don't know if we have what it takes to be champions but we didn't deserve to lose either of the matches we did against two of the top clubs (Manchester City and Chelsea over Christmas) but it's all right because we are playing well."