West Brom striker Anelka debating future after FA charge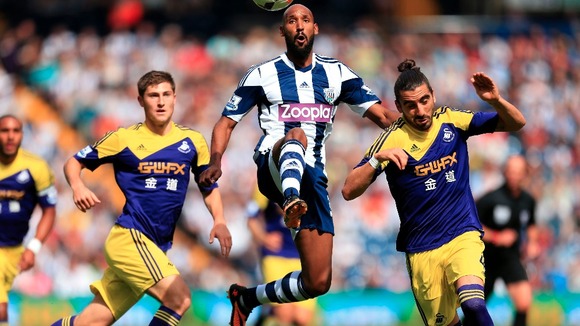 West Brom insist striker Nicolas Anelka will remain available for selection while he considers his options after being charged by the Football Association over his controversial 'quenelle' goal celebration.
The Frenchman has until Thursday to respond to the charge for the gesture, which some say is an inverted Nazi salute and has anti-Semitic connotations.
Anelka has been charged with making an improper gesture and that it was an aggravated breach, in that it included "a reference to ethnic origin and/or race and/or religion or belief."
Under new FA rules, such aggravated offences carry a minimum five-match ban and possibly a longer suspension.
In a statement West Brom said there would be no action from them until the FA had concluded their disciplinary process.
"West Bromwich Albion has noted The FA's charge against Nicolas Anelka regarding the gesture he made after scoring his first goal against West Ham United on December 28," said the club.
"Anelka has received a 34-page document explaining the allegations against him and informing him that he has until 6pm on Thursday to respond. The player is now considering his options.
"Under FA rules, Anelka remains available for first-team selection until The FA's disciplinary process has reached its conclusion. Following this, the club will conclude its own internal enquiry."