Everton striker does not support Anelka - Martinez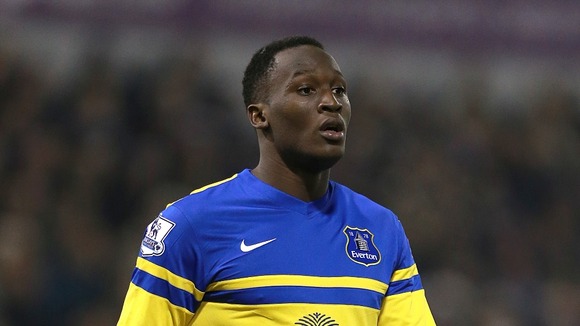 Everton boss Roberto Martinez has stressed Romelu Lukaku was supporting Nicolas Anelka and not the Frenchman's controversial 'quenelle' celebration in an interview this week.
Lukaku, the 20-year-old Belgium striker who is on loan with the Toffees from Chelsea, featured in a video interview posted on the Everton website in which he said there did not have to be ''such a big deal'' made about Anelka's actions and that he thought the West Brom frontman should not be banned.
The quenelle, which is a pose Anelka struck after scoring against West Ham on December 28, has been labelled anti-Semitic and an inverted Nazi salute, and Anelka must respond to a Football Association charge concerning his demonstration of it by 6pm on Thursday.
It was created by French comedian Dieudonne M'Bala M'Bala, who has been prosecuted for anti-Semitism. Anelka is a friend of Dieudonne's and the player has insisted his salute was a gesture aimed at the French establishment.
Reports have suggested Lukaku - signed by Chelsea when Anelka was at the London outfit - faces being dropped as an ambassador for football's anti-discrimination group Kick It Out over the matter.
Everton removed the interview footage from their website and distanced themselves from Lukaku's defence of Anelka, emphasising that the comments were the opinion of the player and not the club.
And when asked on Thursday if he had spoken to Lukaku about the interview, which was filmed after Everton's 1-1 draw at West Brom on Monday, Martinez said: "We always speak and obviously this is an important issue because there has been a lot of misunderstanding about it.
"Rom is only a young man and sometimes after playing a game, the emotions could still be high.
"All he wanted to present was a bit of support for a player he has admired from a young age. But he never supported his views or the meaning of those views.
"Remember, there has been a big, big misunderstanding about this issue and the quicker that that gets solved - and it is not for us to solve it, that is for the player (Anelka) and the FA - the better. Everyone will have clarity.
"I'm sure there has been a big misunderstanding. One thing is supporting an individual and something else is to support a gesture.
"Romelu wanted to support an ex-team-mate. He understands there has been a big misunderstanding.
"He has never supported any sort of conflicting views that could be disrespectful to anyone - it is not the type of person he is."