Sunderland defender Bardsley doubts warm homecoming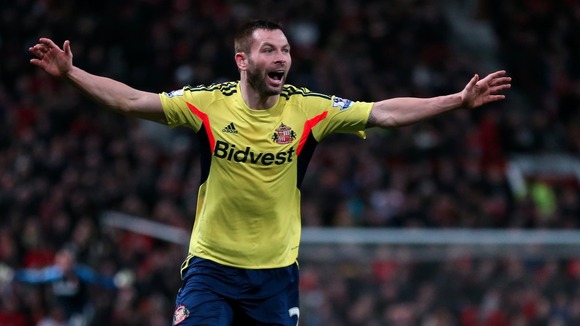 Born-again defender Phil Bardsley has admitted he may not be allowed back into his home town after helping to book Sunderland a Capital One Cup final trip to Wembley.
The Salford-born former Manchester United player was part of the Black Cats side which dumped United out of the competition after a penalty shoot-out at Old Trafford on Wednesday night six years to the day since his arrival at the Stadium of Light.
However, the 28-year-old, who was signed by Roy Keane in January 2008, might not even have been there after being discarded by then Sunderland manager Paolo Di Canio last summer.
Bardsley, whose late strike looked to have killed United off until Javier Hernandez extended the agony, told the Sunderland Echo: "My emotions are going through the roof. I don't know what to say.
"I'm not sure I'll be allowed back into Salford, but it doesn't matter. Sunderland are going to Wembley and that's all that matters to me.
"Massive gratitude to Roy Keane for bringing me to such a fantastic football club. I have enjoyed every minute of it.
"To take this club to Wembley and to be part of such a great day out will be phenomenal. There were 9,000 there last night and they never cease to amaze me when they travel away in their thousands.
"I probably wasn't one of their popular players six months ago, but that's football. Hopefully I have turned that around and being part of this club going to Wembley is something special."
Sunderland's passage was eventually secured - they went into the second leg of the semi-final holding a 2-1 lead - in a less than impressive shoot-out in which keeper Vito Mannone proved the hero.
Only Marcos Alonso and Ki Sung-yueng for the visitors and Darren Fletcher for their hosts found the back of the net from the spot, with Mannone's save from Rafael da Silva ultimately sending the Black Cats to their first major final since 1992 and their first in the League Cup for seven years more.
Bardsley said: "Shambles, wasn't it? I don't care. It can be as bad as anything, we are through and going to Wembley."