Barcelona president Rosell resigns over Neymar allegations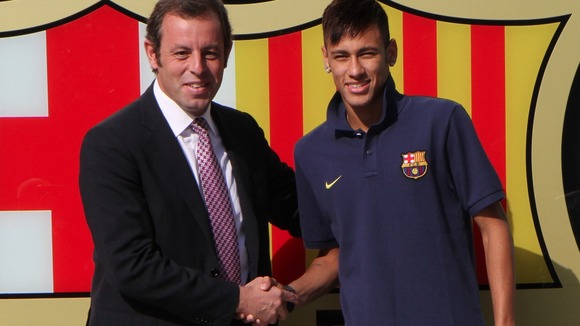 Sandro Rosell described the allegation he misappropriated funds from the signing of striker Neymar as "unfair and reckless" as he announced his shock resignation as Barcelona president.
Rosell also revealed at a press conference on Thursday night that he and his family had been the victims of "threats and attacks" as he brought the curtain down on his three and a half years as Barca chief.
At the same time as stepping down, Rosell confirmed that vice-president Josep Maria Bartomeu would be his successor until 2016.
Rosell's departure comes after Spanish national court judge Pablo Ruz this week accepted a lawsuit that alleges Rosell misappropriated funds from the transfer of Brazil international Neymar from Santos last June.
Barcelona club member Jordi Cases has alleged that the amount paid was more than the 57 million euro (£48.6m) fee reported at the time.
Rosell insisted on Monday that the transfer fee for Neymar was 57 million euros and in announcing his decision to step down on Thursday, he said: "In recent days an unfair and reckless accusation of misappropriation has resulted in a lawsuit against me in the Audiencia Nacional.
"From the beginning I have said that the signing of Neymar Junior has been correct and his signing has caused despair and envy in some of our adversaries.
"The right of the club members to be informed needs to be compatible with the defence of the club and confidentiality of certain matters and facts. This confidentiality is essential in the world of football because otherwise the club could be damaged.
"The board of directors is a team. And this team leads a project that has brought the club great success. I don't want unfair attacks to negatively affect their management or the image of the club. This is why I think my time here has come to an end.
"Now, in accordance with the club's statutes, I have presented my irrevocable resignation of the presidency of FC Barcelona to the board of directors."
The 49-year-old took over as Barca president in the summer of 2010 after winning a landslide vote to succeed Joan Laporta.
Rosell, who had been vice-president under Laporta before resigning in 2005, scooped 61.34 per cent of a record turn-out of 57,088 voters - Agusti Benedito was second with just 14.09 per cent.
During Rosell's presidency, Barca won two Primera Division titles, the Champions League, the Copa del Rey, the FIFA Club World Cup, the UEFA Super Cup and three Spanish Supercopas.
The reigning Spanish champions are also flying high this season under new coach Gerardo Martino, sitting joint top of La Liga, through to the last 16 of the Champions League, where they will face Manchester City, and on course to reach the last four of the Copa del Rey .
The club have also announced plans to convert their Nou Camp home into a new 105,000-seater stadium, with a budget of 600 million euros (£496million).
There have been testing times for the Catalan giants during Rosell's tenure as well, though, both on and off the pitch.
They include the illnesses suffered by former coach Tito Vilanova and defender Eric Abidal and the humiliating 7-0 aggregate defeat by Bayern Munich in last season's Champions League semi-finals which some felt would herald the end of Barca's golden years.
Rosell has also revealed he and his family had been the victims of personal attacks during his time in charge at the Nou Camp, without going into any further detail.
He said: "In these four years we have enjoyed and suffered because we are Barcelonistas, just as many generations of Blaugranas have enjoyed and suffered for more than a century.
"In all of these years we have seen that our successes are the result of our victories on the pitch and overcoming innumerable obstacles off the pitch: political, external and, what's worse, at times the pressure has come from our own environment."
He went on to add: "But this period of success has also brought us very difficult moments. For some time my family and myself have suffered threats and attacks in silence. These threats and attacks have made me wonder if being president means having to jeopardise my family."
Thursday night's announcements came following a day of speculation, with Spanish media reporting Rosell had met with his deputies around midday before Barca officially confirmed an extraordinary board meeting had been called for 1700BST.
A scheduled press conference for 1830BST was then delayed for over an hour as the board meeting continued.
Once the meeting had been concluded, Rosell faced the media alongside Bartomeu, who it was confirmed had received unanimously support from the board to take over as president.
Bartomeu said: "My first desire is to announce the continuation of the board's project until 2016.
"I ask the club members for their support. I encourage them to continue to have confidence in this project."