Oxlade-Chamberlain settles into Gerrard role at Arsenal
by Will Unwin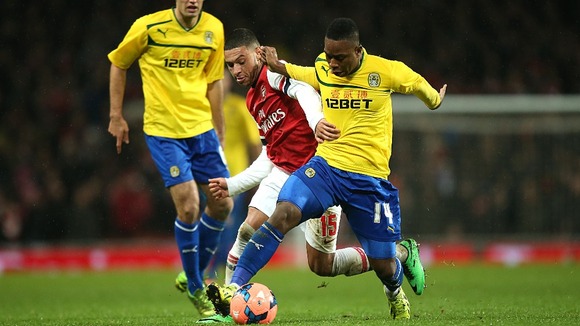 Arsene Wenger recently stated his belief that Arsenal youngster Alex Oxlade-Chamberlain could be the man to replace Steven Gerrard in the centre of England's midfield, and is now seeing what he can do in there.
Since arriving from Southampton in 2011, Oxlade-Chamberlain has mainly featured in wide positions for club and country.
But now Frenchman Wenger is hoping he can mould the player he recruited at great expense into a more defensively-minded midfield.
Wenger said: "He has good quality to distribute and penetrate individually – very similar to Steven Gerrard.
"At the moment he is still in development. It is good for his education to play on the left, right or centrally, but after the age of 23 or 24 he will settle into a position. He will be an Aaron Ramsey type."
In his first start since suffering a knee injury on the opening day of the season against Aston Villa, the 20-year-old was allowed to show what he can do in a deeper, central role when Arsenal faced Coventry in the FA Cup on Friday.
Operating alongside the more experienced Jack Wilshere – a man who also wants to be playing higher up the field – Oxlade-Chamberlain was given the task of nullfying League One Coventry's attacks.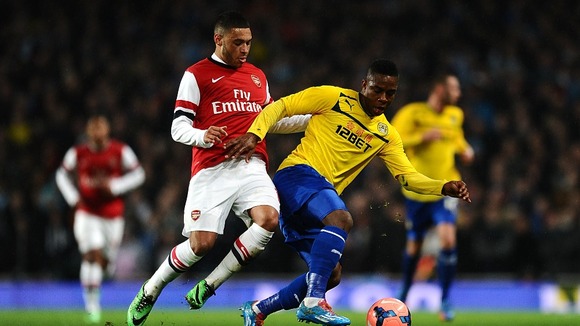 More: United confirm Mata deal
His early distribution from in front of the Gunners back four was abysmal, as his first two long passes went nowhere near their intended targets, instead being gleefully claimed by the visiting players.
After 14 minutes he was given the opportunity to do something more natural to him, when he received the ball 20 yards from goal, but inaccuracy cursed him once more, as the ball sailed well over the crossbar.
Oxlade-Chamberlain certainly possesses the physical qualities to succeed in his intended position: he is quick, strong and reads the game well, but will need to improve his tackling. He lost the ball in a tussle with the experienced Coventry skipper Carl Baker, allowing the League One midfielder a run at the Arsenal back four, but letting a shot off, forcing Lukasz Fabianski to fingertip the goal-bound effort over the bar.
Obviously, he has little experience in this role, so was occasionally found out of position when Arsenal lost possession, due to a lack of discipline, but Oxlade-Chamberlain was always working hard to at least remain withdrawn from the attacking elements of the Arsenal side.
Arsenal were caught on the break in the 24th minute, commanding Oxlade-Chamberlain to chase back. He had to two failed attempts to retrieve the ball from Frank Moussa, but showed willingness once more, regaining possession for his side and starting off a new attack.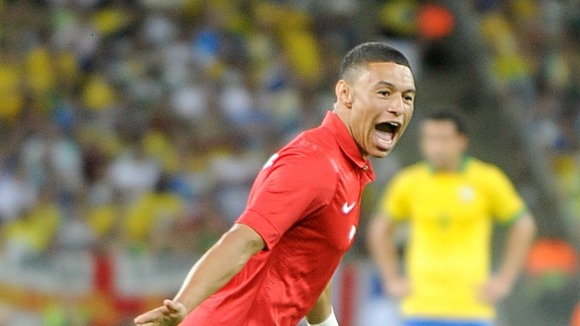 In the space of ten seconds in the 34th minute, the 13-time capped midfielder showed his capabilities in the final third. Firstly, he found Lukas Podolski outwide with a precise 20-yard pass, before accepting it back and almost playing Kieran Gibbs through on goal with a ball slid between two defenders.
There were still opportunities for the ex-Southampton youngster to go forward, foraging his way into the area, before being turned down for a penalty after being bundled over by a defender in yellow.
After the game, Wenger praised Oxlade-Chamberlain, he said: "I like what he did tonight in the centre, especially as long as we had the ball, defensively he worked hard, but especially offensively. Him and Wilshere could make a good partnership, for England too, in the future."
Eventually, Oxlade Chamberlain was withdrawn in the 72nd minute to be replaced by another kid with an exciting future in the centre of Arsenal's midfield, 16-year-old Gedion Zelalem.
There will be greater tests than Coventry in the months ahead, but a fully fit and versatile Oxlade-Chamberlain will be a fine asset in Arsenal's push for the Premier League title.
The talent and the willingness is there on Oxlade-Chamberlain's behalf, but it certainly won't be a simple transition for the England international, but he's in the right place to learn.