Chelsea manager Jose Mourinho warns John Terry he should focus on playing for now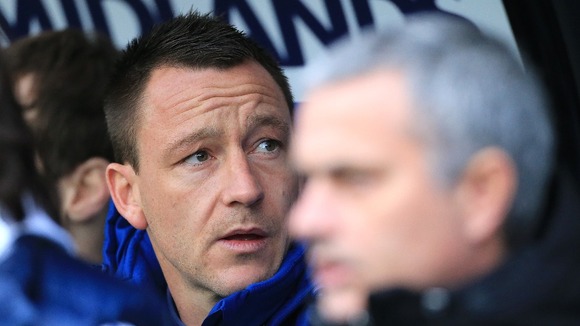 Chelsea boss Jose Mourinho insists there is no guarantee John Terry will make a successful manager despite leading the Blues on the field with distinction for a decade.
The 33-year-old former England captain, who has led Chelsea to every major club honour, is taking his coaching badges as he eyes a career in football beyond his playing days.
"You can be a leader as a player and be in trouble to be a leader as a coach," said Mourinho, who did not play at the highest level.
"And you can be an ordinary player without any voice in a team and go in one direction where you become a fantastic manager. There is no relationship at all.
"I was a more than ordinary player with a big voice in a team."
Terry is out of contract at the end of the current season and Mourinho is in no rush for Chelsea to pin their captain down for a new deal.
Mourinho says Terry's focus should be purely on the field at present.
The Blues boss said: "He has to think now about playing. It's what he enjoys more."
Mourinho advises his senior players to achieve their coaching qualifications "just in case". He believes players who think more about the game can only help themselves and their team.
Mourinho added: "I know players that become managers and you think they have no conditions for that. There are others and you feel they look like they have conditions to be and they aren't. It's a bit of a box of surprises.
"What I advise them all to do is to prepare themselves and to live their experiences as a player, not just as a player but also as a potential future manager.
"If you think that way you are a better player during the time you play and you prepare yourself in case you want to be (a manager)."