Haters motivate me even more, says confident Adebayor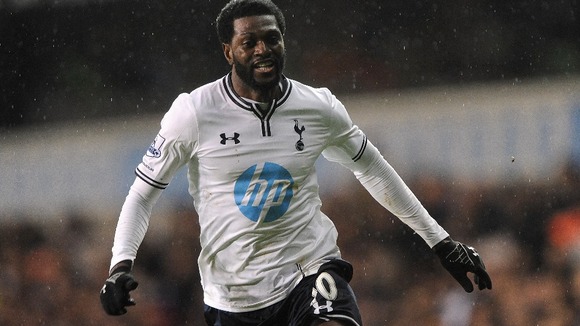 Emmanuel Adebayor says the naysayers gave him all the motivation he needed to re-establish himself at Tottenham.
Few expected to see the 29-year-old play a major role at Spurs again after spending the first half of the season in the wilderness under Andre Villas-Boas.
However, since Tim Sherwood's appointment the forward has flourished, netting five goals in eight league matches - a run he puts down in part to his desire to prove the doubters wrong.
"I remember in early September when I went back home and did an interview saying it would not take me long to be the number one striker again in Tottenham, a lot of fans, not everyone, jumped on that, 'Oh, who does he think he is?'" Adebayor told Barclays Premier League World on Sky Sports 4.
"These are the things that give me more motivation and these are the things that keep me going.
"When you wake up and you realise that there are a lot of haters out there and you want to prove them wrong, you just keep focused and keep doing what you love best, which is playing football, scoring goals and having fun."
That was something Adebayor was denied under Villas-Boas, who, having tried to sell the striker in the summer, made him train with the club's development squad and gave him time off following the death of his brother in Togo.
"I think we are a club and we all fight for the same thing, all fight for glory," he said. "Don't get me wrong, he brought his ideas and I told him: 'Your ideas will not help the team'.
"I have had a chance to play for a lot of top clubs in my career and I know how it's supposed to be.
"I told him one v one and he didn't want to listen, and then I told him in front of the group.
"Maybe it was a mistake. Maybe it was a good one, maybe it was a bad one. I don't know, but I spoke my mind."
Adebayor has no such problems with the Portuguese's successor, though, under whom he is enjoying a new lease of life.
"I know Tim quite well, so for me, to be honest with you, I was impressed because I know the manager, the person, the personality," the frontman added.
"I know what he can bring into the club and we all see what he has brought into the club.
"For me, he is an unbelievable man, a nice guy with a huge character.
"He has been there for me since day one and he just told me 'Adebayor, I know how good you can be, I know you can be a very important player for this squad and to fight for the team. If you fight for the team, the team will be behind you'.
"At the moment, this is what is happening and I am very happy."