Hazard dreaming of a Chelsea title win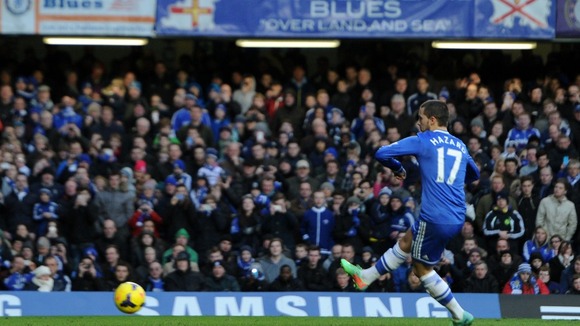 Eden Hazard dreams of Chelsea winning the Barclays Premier League this season.
The Belgian's hat-trick in Saturday's 3-0 win over Newcastle saw the Blues capitalise on Arsenal and Manchester City dropping points to take pole position with 13 games remaining.
Jose Mourinho continues to play down the Blues' title chances, but Hazard is optimistic of success.
Hazard told Chelsea TV: "Top of the league. I go in my bed, I dream. I hope at the end of the season it will be the same.
"It's a pleasure to play for this team and to work for that."
It was another impressive performance from Hazard, who has attracted plaudits from all-comers this season and now has 14 goals, 12 of them in the Premier League.
He netted two goals in eight first-half minutes, as well as a second-half penalty, and Mourinho does not understand why the Belgian has been overlooked for individual awards this season.
"Our league is phenomenal and it is better than ever, but our league must be full of unbelievable players because this kid not one single award," Mourinho told Chelsea TV.
"The difference between (Newcastle) and Hull or Southampton or Man City, the difference was the goals he scored.
"The way he plays is exactly the same. The kid is playing fantastic."
Hazard collected the match ball, which his team-mates signed.
The 23-year-old paid tribute to them and, in particular, to Frank Lampard, who passed on penalty-taking duties to allow the forward to net his third.
Hazard, whose most recent hat-trick was in May 2012 in his last game for previous club Lille, added: "It's a good present. Without the team I'm nothing.
"I just want to say thank you. Thank you, Lamps, for the penalty, because normally it's for him.
"I just said 'if you want it, take it, I don't care'. He said 'no, no'.
"(It is) my first hat-trick in the Premier League. I hope I can do the same another day. I work for that."
Hazard is realising the potential which he demonstrated last season, his first in the Premier League.
He added: "I work every day. I feel good on the pitch. I have experience now, because last season was my first.
"I try every game to make the difference for the team. It was another good day for me."