Bruce backs Hull trio for England call-ups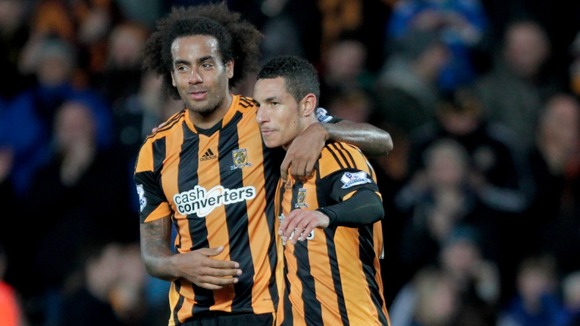 Hull manager Steve Bruce expects Tuesday's clash with Southampton to provide food for thought for England boss Roy Hodgson.
Hodgson was in attendance when the Tigers defeated Sunderland at the Stadium of Light on Saturday, though Black Cats winger Adam Johnson appeared to be the main item on his agenda.
An early red card for Sunderland's Wes Brown largely spoiled his chances, while Hull's own England hopefuls - Tom Huddlestone, Jake Livermore and Curtis Davies - saw their contributions obscured by the numerical advantage.
Despite that Bruce firmly believes any of the three has the credentials to gatecrash Hodgson's World Cup squad - though injury would probably need to strike elsewhere for the door to open.
The Hull boss does not know whether to expect Hodgson at the KC Stadium, but cannot see a better place for him to be.
"I don't know if he's coming or not, I'll have to check that," said Bruce.
"Who am I to do Roy Hodgson's job? But there's always a shock and I wouldn't be surprised if one of (Hull's players) might sneak in.
"Huddlestone and Livermore have had a sniff of the England set-up before and since Curtis Davies walked through the door he's had a wonderful first season with us.
"All they can do is keep playing well and keep knocking on the door. There's always one or two shocks, there's a long way to go before the World Cup and injuries can set in.
"They'd never let you down. They've got a great attitude and a good work ethic - those three, in particular, ooze it."
Southampton's English contingent boast a likelier chance of going to Brazil this summer, with Adam Lallana, Rickie Lambert and Jay Rodriguez all featuring under Hodgson in recent months, and Luke Shaw considered one of the country's brightest prospects.
Hull suffered their worst defeat of the season at St Mary's, 4-1 in November, with Lambert and Lallana both on the scoresheet.
As a former Manchester United captain Bruce knows all about homegrown talent and sees plenty of it at Saints.
"Apart from the big teams, Southampton are the best of the rest of us," said Bruce.
"They've got individual players who I think will play at the highest level. Lallana, Shaw, Rodriguez, Lambert... really top-class players.
"If you've grown up with a club like Lallana and Shaw have that helps enormously. One of the great Manchester United teams had five or six who came through the ranks and the whole thing revolved around them for 12-15 years."