Mertesacker wants Arsenal reaction against Man United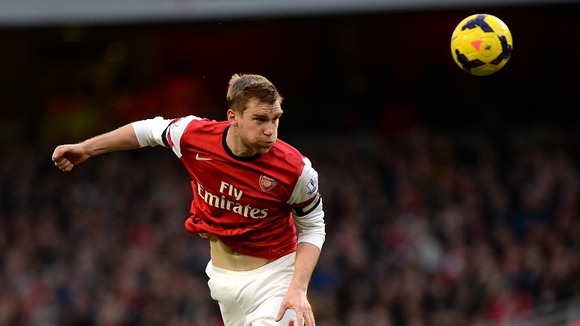 Defender Per Mertesacker has challenged his team-mates to show pride in wearing the Arsenal shirt by responding to their Anfield horror show with a match-winning performance against Manchester United.
The Gunners were humiliated 5-1 by Liverpool on Saturday - when they trailed 4-0 after just 20 minutes - and as a result where knocked off the top of the Barclays Premier League table by Chelsea.
Arsene Wenger's side, however, have the chance to make amends swiftly when inconsistent United head to the Emirates Stadium on Wednesday night.
Germany international Mertesacker is expecting Arsenal to come out all guns blazing as they tackle a run of games which could well shape their season.
"We feel very bad, disappointed with our performance right from the start. To be honest, it is one of the worst setbacks of this season," Mertesacker said to Arsenal Player.
"It was just not good enough to compete at that level.
"We have the opportunity to respond quickly on Wednesday and we have to remind ourselves what we have done from Manchester City [when Arsenal lost 6-3] until now.
"That is at stake, and to show that responsibility for ourselves and for the pride of our club."
Arsenal now have four home matches in succession, and will get a chance to avenge their defeat by Liverpool when Brendan Rodgers' men head to north London for an FA Cup fifth-round tie on Saturday ahead of the visit of Bayern Munich in the Champions League.
Mertesacker is confident the Gunners faithful can help lift the team.
"We have huge games coming up but we can rely on our fans that they will push us again," he said.
"I think the team will give something back in the next couple of weeks."
Midfielder Mikel Arteta has described the Anfield defeat as feeling "like a car crash".
Gunners boss Wenger believes his wounded squad can restore some pride against United.
"I am confident we will respond in a positive matter on Wednesday night," he told the club's official website.
"I think it is a shame that we couldn't turn up with a better performance.
"After 10 minutes we conceded two goals on set-pieces, that just shows that the level of concentration was not there and that when nobody takes responsibility in these kind of situations it is always a bad sign.
"It is about how well we do at home at the Emirates, of course starting on Wednesday.
"Recently we have been very good defensively at home and offensively as well, that is what we want to show on Wednesday night."