Spurs head coach Tim Sherwood believes he can lose another five games and still qualify for Champions League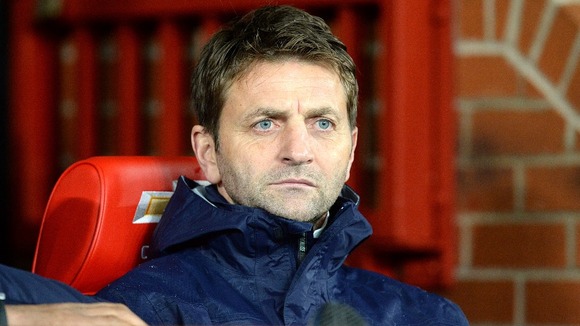 Spurs head coach Tim Sherwood believes his side could lose up to five of their remaining Premier League fixtures and still qualify for next season's Champions League.
Spurs currently sit fifth in the table following their 1-0 win over fellow top-four hopefuls Everton on Sunday, with just a three-point gap up to Liverpool, who currently occupy that much-coveted fourth spot.
Sherwood has lost just one of his nine league fixtures since replacing Andre Villas-Boas as manager at White Hart Lane, albeit a 5-1 mauling at the hands of Manchester City, but feels he could afford to see his side lose several more games in the run-in.
"I haven't looked at it, maths isn't my strong point but I would say we can only possibly afford to lose four or five games maybe of what we have got left," he said.
"That would be a huge tally."
When asked if nine wins from their remaining 13 games would be enough, Sherwood replied: "It could well be, no one is dropping points are they. Someone could drop a couple but big rivals like Liverpool are flying and we need them to trip up, that is for sure.