Sunderland manager Gus Poyet warns Man City to expect the unexpected at the Etihad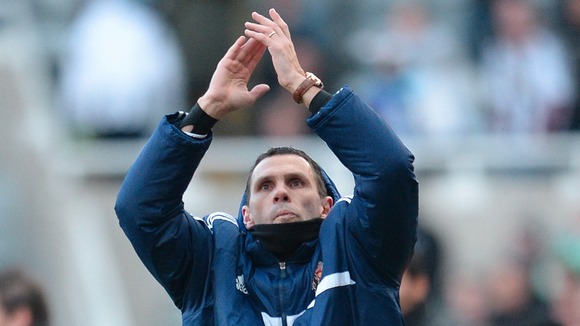 Sunderland boss Gus Poyet has warned Man City to expect the unexpected as the two clubs prepare to stage a dress rehearsal for next month's League Cup final.
The Black Cats head for the Etihad Stadium on Wednesday evening having slipped back to the fringes of the fight for Barclays Premier League survival following Saturday's 2-0 home defeat by Hull.
Poyet had previously dragged the club into 14th place, as well as a Wembley final, after a vastly-improved run of results, but with their next three league fixtures scheduled to take them to City, Arsenal and Liverpool, their plight could deepen significantly over the next few weeks.
However, they have won three and drawn one of their last Premier League games away from the Stadium of Light and remarkably, have beaten City on Wearside in each of their last four meetings and for those reasons, the Uruguayan insists they cannot be written off.
He said: "Every time we look at a home fixture, we think we are going to win and we haven't beaten anyone.
"I just try to take them as they come. The idea is to go there and try to get something from this game and something from the Arsenal game and then if we have to go to Liverpool, depending on the cup, the same.
"I don't think we need to analyse too much or give up before we play. We are going to play our game and we will see. You never know.
"We are not a team that you can say you know what is going to happen. We are a quite unexpected team, so we will see."