Managers Manuel Pellegrini and Jose Mourinho renew their rivalry as Man City host Chelsea in the FA Cup this weekend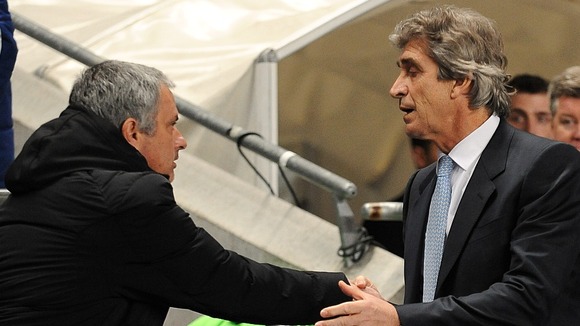 Managers Manuel Pellegrini and Jose Mourinho renew their rivalry as Manchester City host Chelsea in the fifth round of the FA Cup this weekend.
Here, Press Association Sport examines the pair head to head.
HISTORY
The pair's rivalry dates back to 2010, when Mourinho succeeded Pellegrini as Real Madrid boss. Mourinho has regularly shown a penchant for deriding predecessors and Pellegrini was no exception. "Second place is just the first loser," said Mourinho of Pellegrini's single season at the Bernabeu, when the Chilean finished runner-up to Barcelona despite accumulating 96 points. "If Madrid were to fire me, I wouldn't go to Malaga."
HEAD-TO-HEAD RECORD
Mourinho has regularly come out on top when the pair have met, with last week's 1-0 win in the Premier League merely the latest result to have gone his way. Pellegrini has won just one of their nine clashes whilst at either Malaga or City, with Mourinho - at Real or Chelsea - winning seven.
TACTICS
Pellegrini said when he arrived at City last summer he intended to play an attractive, attacking style and he has stuck to his principles, even when weaknesses have been exposed. Mourinho has adapted more to opponents and did not play as defensively as expected at the Etihad Stadium last week. Instead he outnumbered City in midfield and was able to catch them on the counter-attack time after time.
MAN-MANAGEMENT
Pellegrini came to City with a strong reputation in this regard and he has banished the negativity of last season. His handling of Joe Hart and Samir Nasri, who have had spells out of sorts, has worked well and the likes of Edin Dzeko appear happy with his rotation. Mourinho's treatment of senior stars such as Ashley Cole and the now departed Juan Mata has raised questions, but the results are vindicating him.
RECORD
With two Champions League wins, a UEFA Cup and domestic titles in Portugal, England, Italy and Spain, Mourinho's CV is an impressive one. Much is made of Pellegrini's only European honour being an Intertoto Cup but he does have a handful of South American titles to his name.