Has Yaya Sanogo overtaken Nicklas Bendtner in the pecking order at Arsenal?
by Harry Hesp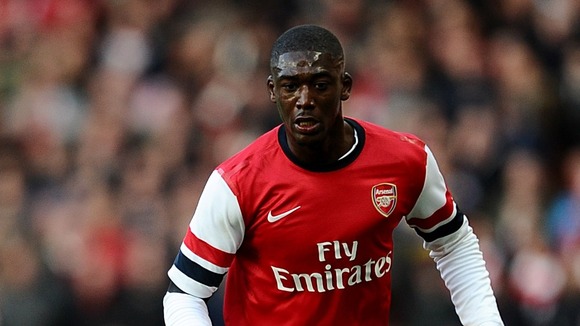 If Arsenal don't win the title then one of the main criticisms fired at Arsene Wenger will undoubtedly be his failure to delve into the January market to recruit a striker to help ease the burden on Olivier Giroud.
It already seems a glaringly obvious oversight on his part, especially with Man City showing their embarrassment of riches upfront - the more than capable Stevan Jovetic now firing in the goals as their fourth choice striker.
Arsenal need to keep the pace with free-scoring City but with Giroud perhaps being distracted by personal matters, Nicklas Bendtner proving on many occasions that he just can't cut it at the Emirates and Wenger preferring to use Lukas Podolski out wide, attention turns to Yaya Sanogo, the young French striker who joined Arsenal last summer.
When Wenger signed Sanago, he said of the 6ft 3in striker: "For me, it will take six months or so of work before we really see what he can do."
Almost six months to the day Wenger delivered on his word - handing the young striker a start in the FA Cup at home to Liverpool.
From the outlay it was obvious that Sanogo is a willing runner and his rather daunting frame gives him an immediate presence that troubled the Liverpool back four all afternoon.
"He is a traditional number nine, but he's a technical player as well," says Wenger, "He uses his body well, has a good presence in the box and has the nose to know where to be on the pitch."
He gave Skrtel as good as he got in the shirt tugging contest that the Liverpool man insists on having with the opposition striker every week and showed his number nine qualities by beating Daniel Agger a number of times in the air.
A classy touch early on from the French youngster, a nutmeg on Agger, brought the Emirates to its feet but just moments later he was presented with an opportunity in the Liverpool box and swung his foot wildly and completely missed the ball.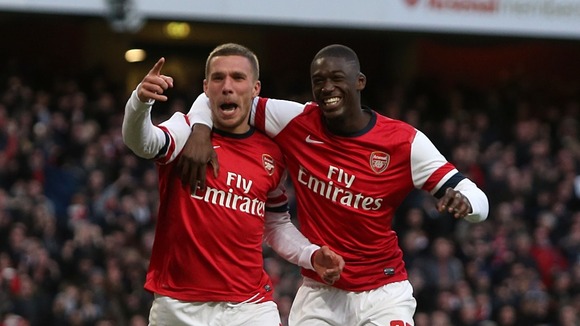 Wenger: "Sanogo was absolutely excellent, he was a real handful for them." #AFCvLFC
His confidence looked to take an immediate knock but soon after he made amends by having a part to play in Arsenal's opener, expertly taking the ball onto his chest before his ferocious strike was blocked, falling into the path of Alex Oxlade-Chemberlain to fire home.
He has goalscoring pedigree, evident with his nine goals in just 11 appearances in Ligue 2 last season, but his knowledge of where the goal is never shone through this afternoon, repeating his air-shot trick when a volley came his way.
What the striker did show was an understanding of the game as well as the technical ability to potentially feature regularly for an Arsenal side alongside master technicians such as Mesut Ozil and Santi Cazorla.
His awareness of the runners around him was good, occasionally failing to find his target but getting his head up and spotting the runs of Podolski and Oxlade-Chamberlain on several occasions.
Aresnal's attacking midfield trio needs a pivotal point to make it work, someone to hold the ball up and bring them into play - Giroud has filled the role well this season, but if Wenger needs a stand-in as we get into the business end of the season then Sanogo looks to have just played his way ahead of Bendtner.
The standing ovation from the Emirates faithful would have done his confidence no harm either.